Electrophysiology Services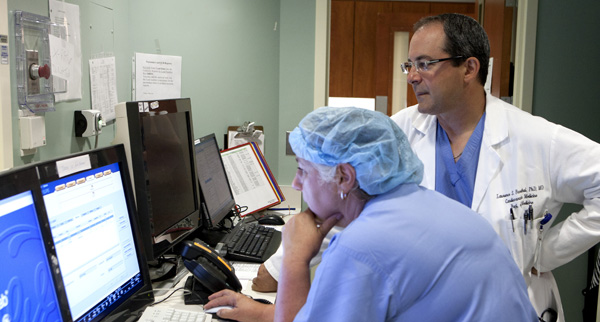 Electrophysiology (EP) studies are tests that look at the electric activity of your heart. Having an arrhythmia can be harmless or could cause serious consequences. Sometimes your heart will beat too fast or too slow or erratically. When this happens, blood doesn't flow through your body the right way, which can casue organs not to work properly. When you have an abnormal heart rhythm, called a cardiac arrhythmia, doctors will request that an EP study be done to find out why and where the abnormal heart beat is coming from.
Our Electrophysiology Services, located in Worcetser, MA, are the most complete cardiac arrhythmia treatment program in Central New England. We provide integrated, advanced care and treatments for your irregular heart rhythm. Studies show that the risk for complications decrease at hospitals that perform a high number of procedures.
Our highly skilled physicians, also called cardiac electrophysiologists, tailor your treatment plan to meet your needs. 
Electrophysiology (EP) Lab in Worcester, MA
Our doctors treat patients with cardiac arrhythmias in the Electrophysiology Lab. The results help determine the best treatment for you. Treatments include medication, getting a pacemaker or implantable cardioverter defibrillator, ablation, or other procedure.
Procedures include:
Ablations
Cardiac resynchronization devices
Cardioversion
Defibrillator implantation, including both traditional and subcutaneous devices
Hybrid MAZE (CONVERGENT) procedure
Implantable loop recorders
Syncope evaluation
Learn more about cardiac testing and screening at UMass Memorial Medical Center.
Pediatric Arrhythmia Treatment
We provide referral and pre- and post-care for pediatric electrophysiology procedures.
Available Locations:
UMass Memorial Medical Center
- University Campus
55 Lake Avenue North
Worcester, MA 01655
Tel: 774-442-5051