Hand and Upper Extremity Care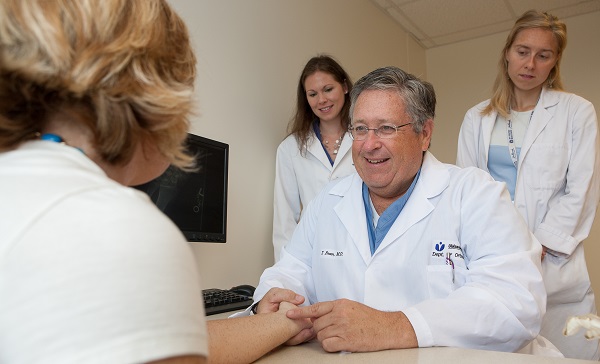 UMass Memorial Health provides a full range of treatments for adults and children with hand and upper extremity (wrist, arm, elbow, and shoulder) problems due to trauma, work-related injuries, congenital abnormalities and arthritis (painful, swollen joints), as well as sports injuries.
With on-site access to state-of-the-art diagnostic, medical and surgical procedures, no other program in Central New England matches the level of expertise and degree of specialization found at UMass Memorial Medical Center.
Learn more about:
Hand and Upper Extremity Surgeons at UMass Memorial Medical Center
UMass Memorial Medical Center's  team of board certified, fellowship trained hand and upper extremity specialists - orthopedic and plastic surgeons who have advanced training in hand and upper extremity treatments - work closely with our hand therapists to provide complete, specialized care.
Members of the care team meet regularly to ensure maximum coordination of care, so that patients can return to their daily activities as quickly as possible.
Hand and Upper Extremity Conditions
Patients receive care for conditions that cause pain and prevent the normal use of the hand, wrist, arm, elbow or shoulder, including:
Bone and joint injuries 
Carpal tunnel syndrome and other conditions caused by nerve compression or pinching
Complex injuries to the hand and upper extremities
Congenital abnormalities (present from birth)
Nerve injuries and tendonitis 
Conditions that require surgical repair
Tumors
Comprehensive Hand and Upper Extremity Treatments in Central Massachusetts
Specialized treatments for the hand, wrist, arm, elbow or shoulder include:
Minimally invasive arthroscopic surgery
Design and fabrication of splints to protect and/or rehabilitate an injured area
Highly specialized hand therapy
Joint replacement for degenerative and rheumatologic problems
Microvascular surgery (the repair of very small blood vessels in the hand)
Reconstruction of congenital abnormalities present from birth
New Low-cost, High-quality Surgical Facility
Many outpatient procedures are performed at The Surgery Center at Shrewsbury, a new outpatient surgery center that provides high-quality, cost-effective advanced day surgery procedures with a focus on sports medicine and hand surgery, as well as other surgical specialties. A collaboration among three leading health care organizations – Reliant Medical Group, Shields Health Care Group and UMass Memorial Health – The Surgery Center provides patient-centered care through an efficient model that improves access, all at an exceptional value.
Diagnosis using Advanced Imaging
For prompt, accurate diagnosis, we also offer the latest in diagnostic imaging services including:
Arthrography (a special X-ray to examine the interior of a joint)
Neurodiagnostic studies to evaluate nerve damage
Hand Therapy at UMass Memorial Medical Center
At our Hand Therapy Center, our team of physical and occupational therapists have specialized knowledge in the treatment of hand and upper extremity pain and provide evaluations, treatments and custom splints.
To schedule an appointment, please call 855-UMASS-MD.