If you suffer from symptoms of arthritis or need a hip, knee replacement or shoulder replacement, turn to our specialists at UMass Memorial Medical Center for nationally recognized, award-winning care close to home in Central New England.
Marc Saucier Wants to Compete in a 16th Ironman Triathlon
Marc Saucier has competed in hundreds of triathlons, ski races and other events over the last three decades – including 15 Iron Man triathlons. Chronic pain in his hip and knee tried to bring that to an end. Thanks to UMass Memorial Health, Marc is getting back on course.
Hip, Knee and Shoulder Replacement Surgery in Central Massachusetts
At UMass Memorial Medical Center, our Arthritis and Joint Replacement Center is a national leader in the treatment of arthritis and joint pain.
Our highly trained orthopedic surgeons perform hundreds of total hip replacements, total knee replacements, and total shoulder replacements a year with excellent outcomes. And the more a surgeon performs certain procedures and operations, the more skillful he or she becomes at doing them — and the better patients recover. Our patients' outcomes speak to that. 
Most important is how a patient's activity and physical functioning improve after treatment. Our surgeons incorporate the latest technological advancements into their practice, including computer-guided, robotic assisted knee replacement. Supported by an innovative pain management program which stops pain before it starts, and our rapid recovery program which ensures a faster and complete recovery, total joint replacement patients typically recover at home within 24-48 hours. Outpatient joint replacement is also available for patients who are ready to go home the same day. Our expertise means a faster and less painful recovery for you.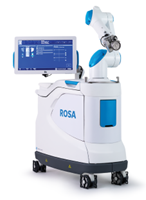 Can joint replacement help you? Learn more in this helpful video.
UMass Memorial Medical Center is the first hospital in Central Massachusetts to perform total knee replacement utilizing ROSA® Knee robotic technology and computer navigation. Learn more about this new technology.
Outpatient (Same day) Joint Replacement
Due to advances in pain control and surgical techniques, many patients are now safely able to go home the same day of their surgery. This means they can recover in the comfort of their own home while still having all the benefits of having their surgery performed in a hospital setting.
We've found that the earlier patients move after surgery, the quicker they recover and get back to doing the things they enjoy. Learn more in this helpful video. 
UMass Memorial's total joint replacement program is locally and nationally recognized for:
Joint Replacement Expertise
National excellence in assessing outcomes and quality of life after joint replacement
State and regional leader in low infection and complication rates
Ranked As High Performing by U.S News for both hip replacement and knee replacement specialties
Award-Winning Care and honor for Blue Distinction Center for Specialty Care® in knee replacement and hip replacement
Five-Star Recipient for Total Knee Replacement for 3 Years in a Row (2016-2018) as designated by HealthGrades
Clinical Research which earned national honors and awards for work in improving functional results in patients who undergo total joint replacement surgery (www.Force-TJR.org)