Virtual Visits Available  
Our colorectal surgery program is open and offering virtual visits for some appointments.
Don't delay your care. Call 855-UMASS-MD (855-862-7763) today.
Patients with colon or rectal disease can trust UMass Memorial Medical Center to provide the most advanced diagnostic and treatment services. Our commitment to exceptional care ensures that you have access to the latest minimally invasive procedures and pioneering clinical trials to best treat your condition. Our specialists provide expert care in a private and comfortable environment.
Colorectal Surgery in Central Massachusetts
At UMass Memorial Medical Center, your care is managed by a team of skilled and compassionate medical professionals. From diagnostic tests in our advanced Anorectal Physiology Lab to surgery and beyond, our five fellowship-trained colorectal surgeons—including the only female colorectal surgeon in Central Massachusetts— are recognized for their expertise in treating diseases of the intestinal tract, including:
Small bowel
Colon
Rectum
Anus
We are breaking new ground in minimally invasive surgery (laparoscopic surgery) to treat colon and rectal cancer and many other chronic conditions, including:
Our colorectal surgeons thoroughly evaluate your symptoms using the latest screening tools such as endoscopy or colonoscopy in our Anorectal Physiology Lab. Through diagnosis, treatment, surgery and follow-up, we provide complete patient-centered care for the most complex and challenging issues and diagnoses.
Find a fellowship-trained colorectal surgeon.
Latest Advances in Colon and Rectal Surgery at UMass Memorial Medical Center
Patients across the UMass Memorial Health system have access to fellowship-trained, board-certified colorectal surgeons at the Medical Center in Worcester, MA. This skilled team of medical professionals provides the latest diagnostic and therapeutic services to treat a wide range of intestinal tract disorders. 
Our care is evidence-based; this means treatment is supported by the latest clinical trials and research. Each procedure is tailored to the individual patient's specific needs. Learn more about research and teaching.
Colorectal Conditions We Treat
Drawing on the collective expertise of our entire health care system—including the UMass Memorial Health Cancer Center of Excellence—our specialists treat the following colon and rectal conditions, and more. (Click on the links for a printable patient information sheet).
Para ver en espanol las hojas informativas para pacientes, haga clic aqui. 
Colon cancer
Rectal cancer
Recurrent colon and rectal cancer
Anal cancer
Anorectal conditions such as hemorrhoids, anal itching (pruritis ani), fissures, fistulas, abscesses and warts
Intestinal fistulas (enterocutaneous, colovesicle, rectovaginal, and rectourethral)
Endometriosis of the bowel
Presacral tumors
Stoma care, stoma prolapse and parastomal hernia (colostomy and ileostomy complications)
Radiation proctitis
Pelvic floor disorders such as fecal incontinence, rectal prolapse and constipation
Inherited syndromes, such as familial adenomatous polyposis (FAP) and hereditary nonpolyposis colorectal cancer (HNPCC)
Anal stenosis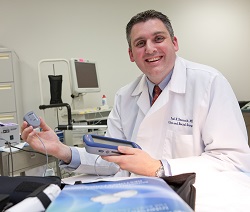 Advanced Treatment Options at UMass Memorial Medical Center
We use the latest surgical techniques, combined with the most advanced technology to treat our patients.  When you see any of the colorectal specialists at UMass Memorial Medical Center, you have access to all of our advanced surgical services:
Less Pain & Faster Recovery with Minimally Invasive Surgery
Laparoscopic surgery is an attractive alternative to traditional open surgery because it allows our surgeons to complete the same operation with much smaller incisions. Patients usually experience less pain and a faster recovery from colon surgery and rectal surgery with laparoscopic surgery.
Learn more about the benefits of minimally invasive surgery.