Vascular and Endovascular Services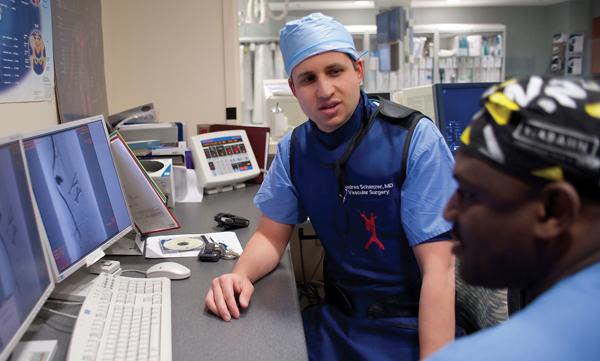 The vascular surgery experts at UMass Memorial Medical Center are dedicated to the diagnosis and treatment of your arterial, venous and lymphatic disorders. Vascular testing is available at locations throughout Central Massachusetts, while specialized care is provided at our Medical Center in Worcester. All of our patients have access to our comprehensive vascular and endovascular treatment options.
Vascular Care in Worcester, MA
We offer complete evaluations and the most advanced treatment options for all types of vascular disease. Our vascular surgeons treat the following vascular and endovascular conditions:
Cerebrovascular occlusive disease
Lower extremity arterial occlusive disease
Acute and chronic visceral ischemia
Renovascular hypertension
Deep venous thrombosis and clotting disorders
Dialysis access
Venous and lymphatic disorders including varicose veins
Thoracic outlet disorders venous
Our vascular surgeons are the first in the U.S. to perform an anuerysm repair with a new technology that uses fiber optic cable imaging instead of X-ray radiation ... Safer for the patient and safer for the staff.
Experts in Minimally Invasive Endovascular Surgery Techniques
Vascular specialists offer evaluation and treatment options for diseases of the arterial, venous, and lymphatic systems. When possible, our physicians choose minimally invasive endovascular techniques, resulting in small incisions, shorter recovery times and better long-term success.
Some of our procedures include:
Evaluation and treatment of aneurysms of the thoracic and abdominal aorta, and mesenteric occlusive disease
Therapy for peripheral arterial disease, including minimally invasive approaches using endovascular techniques
Hemodialysis access, including arteriovenous fistula creation, access maintenance and catheter placement
Use of minimally invasive techniques to treat varicose veins and venous insufficiency
Transcarotid artery revascularization used to prevent stroke-causing debris from going to the brain during carotid artery procedures
Convenient, State-of-the-Art Diagnosis for Vascular Disease
Our onsite vascular lab offers you convenient diagnostic testing and immediate results for vascular ultrasound scans, including:
Abdominal aortic aneurysm (AAA) screenings
Carotid artery duplex tests
Noninvasive segmental pressure evaluations of the lower extremities to assist in the evaluation of peripheral arterial disease
Peripheral arterial and venous duplex exams
Postsurgical follow-up scans
Renal artery exams
Second Opinion Clinic
Our Second Opinion Clinic is for patients who have already received a first diagnosis. You may find there is a treatment option that is more convenient for you, less invasive and possibly more effective than the one you were initially given.
Research
You'll benefit from our focus on research and better understanding vascular disease through clinical trials, basic science and clinical outcomes. Research leads to innovative and new treatment options for patients.
Vascular Care Close to Home
Our hospitals offer you access to expert preventive, diagnostic, treatment and rehabilitation resources for heart and vascular problems in a location that is convenient for you.