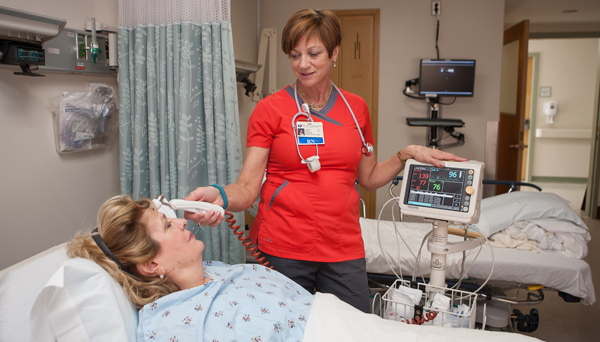 UMass Memorial - Marlborough Hospital provides emergency services for adults and children 24 hours a day, 7 days a week. We are staffed by emergency medicine physicians from UMass Memorial Medical Center who work with a group of highly skilled emergency nurses and other clinical and nonclinical staff.
Services and Resources within Our Emergency Department
Examination and procedure rooms
Specialized treatment areas for cardiac, trauma, pediatric and psychiatric emergencies
State-of-the-art cardiac monitoring system to monitor heart rate, blood pressure, respiration and blood oxygen levels
Negative-pressure isolation room to keep hazardous infections away from patients and staff
Special decontamination area where patients exposed to hazardous substances can be safely treated
Access to a Level I Trauma Center
As a member of UMass Memorial Health, Marlborough Hospital patients have convenient access to the Duddie Massad Emergency and Trauma Center, the region's only accredited Level I Trauma Center for adults.
Patients requiring the advanced services of a trauma center can be rapidly transferred by Life Flight air ambulance.  
Diagnostic Resources
Marlborough Hospital's emergency services are backed by the latest diagnostic resources, including a 40-slice computed tomography (CT) scanner and magnetic resonance imaging (MRI), with high-definition technology. 
Choosing Between the Emergency Department and Urgent Care
If your condition is life-threatening, call 911 or go to the emergency department immediately. 
But sometimes, your choice may be less clear when deciding the best place to go for immediate care.
When Illness or injury strike, you need to make a decision on where and when to get your health care. Sometimes it's confusing to know when to go to the emergency room (think shark bite) and when urgent care would be a good option (think dog bite). We offer an outline help decide which choice is best for your needs.