The Center for Sports & Physical Therapy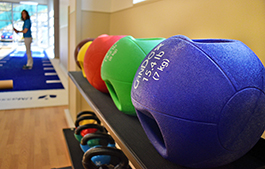 The Center for Sports & Physical Therapy is our 3,000 square foot facility that offers an astroturf area for sports conditioning, before and after work hours, free parking and is handicapped accessible.
Conditions We Treat
After an injury or treatment, you may need physical therapy to regain full strength and function. Physical therapy can help aid in the recovery process when dealing with:
Sports Injuries  
- ACL
- Meniscus
- Rotator Cuff
Fractures
Tendonitis
Concussions
Strains/SprainsOrthopedic Trauma
Repetitive Use and Overuse Injuries
Joint Replacement Surgery Recovery
Status Post Acute Injury
Services We Provide
Graduated Exercises
Sports Specific Regiments
Surgical Recovery
Graston Technique
Dry Needling
Taping
Therapeutic Massage
Electrical Stimulation
Vestibular Rehabilitation
Appointments
To schedule an appointment, a physician referral is required.
Contact Us
151 Main Street
Shrewsbury, MA 01545
Call: 774-214-5050
Fax: 508-845-6587