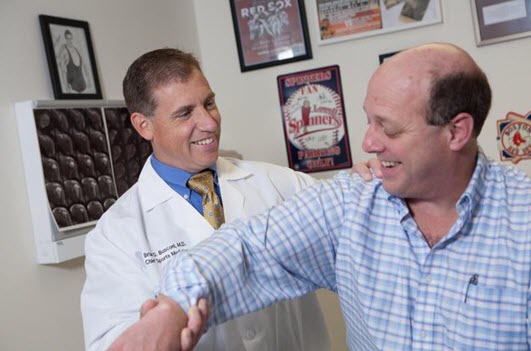 At UMass Memorial Medical Center, sports medicine specialists and orthopedic surgeons offer care for patients with sports-related injuries, including:
Acute traumatic or chronic injuries such as dislocations, bone fractures and ligament damage
Anterior cruciate ligament (ACL) tears 
Evaluation and treatment of fractures
Broken bones
Joint dislocations
Ligament and cartilage injuries
Repetitive and overuse injuries such as tendonitis or bursitis
Sports-related back injuries
Sport-specific injuries in growing children
Sports Medicine in Central Massachusetts
The highly regarded UMass Memorial Sports Medicine staff features an all-star team of fellowship-trained specialists.  While we're best known for treating professional and college athletes, we also specialize in pediatric sports medicine, treatment of active seniors and the wellness of everyday athletes.
Sports Medicine Services
At our Sports Medicine Centers in Worcester and Westborough, our team of board-certified orthopedic specialists works closely together to evaluate and treat sports injuries. Our services include:
Evaluation and treatment within 24 to 48 hours of an injury
Treatment and casting of fractures
Arthroscopic and reconstructive surgery, including ACL tear surgery
Custom and off-the-shelf athletic braces
Physical rehabilitation services including physical therapy, and hand, arm, and shoulder therapy
Sport-specific strength training and conditioning
Easy access to other orthopedic specialties
Advanced diagnostic imaging services
Diagnostic imaging services are provided in the hospital's state-of-the-art Diagnostic Imaging Center. Comprehensive rehabilitation services are provided at a modern and spacious outpatient Physical Rehabilitation Center.
New Low-cost, High-quality Surgical Facility
Many outpatient procedures are performed at The Surgery Center at Shrewsbury, a new outpatient surgery center that provides high-quality, cost-effective advanced day surgery procedures with a focus on sports medicine and hand surgery, as well as other surgical specialties. A collaboration among three leading health care organizations – UMass Memorial Health, Reliant Medical Group, and Shields Health Care Group – The Surgery Center provides patient-centered care through an efficient model that improves access, all at an exceptional value.