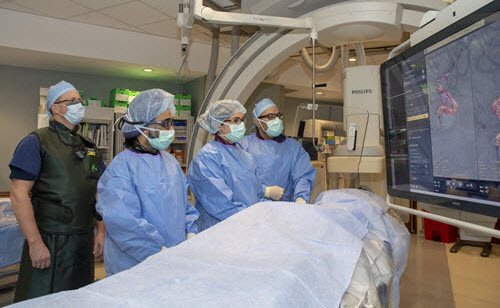 When your doctor needs to look inside your body for clues about a medical condition, UMass Memorial's Radiology Department can help. We offer the latest imaging technology and the most highly trained radiologists in Central Massachusetts to help your doctor make an accurate diagnosis and plan the most effective treatment.
We also have the largest, most expert team of interventional radiologists in this region. Interventional radiology is used to diagnose and treat a wide variety of conditions – without traditional surgery. Interventional radiologists use imaging equipment to see into the body and guide their procedures.
No other hospital in Central Massachusetts has as much diagnostic imaging and interventional radiology expertise as UMass Memorial. So you and your doctor can feel confident that you're getting the very best care right here, close to home.
When you have your imaging performed at UMass Memorial, you can be assured that our specialized radiologists will work closely with your primary care provider and/or specialist to provide the most patient-centered, coordinated care experience.
Shields MRI at UMass Memorial, a partnership with Shields Health Care Group, provides high-quality, affordable MRI (magnetic resonance imaging) and PET/CT (positron emission tomography/computed tomography) services for inpatients and outpatients. MRI services are available at University Campus, Memorial Campus and on Shrewsbury Street in Worcester. PET/CT is available on Shrewsbury Street. 
Medical Research and Clinical Trials
We conduct medical research and clinical trials in partnership with UMass Chan Medical School. You benefit from the knowledge that comes from this research, including cutting-edge radiology equipment, imaging techniques and interventions.