We know that children aren't small adults. They have unique needs that need to be met. If your child is an inpatient at our UMass Memorial Children's Medical Center, you can be assured that our caregivers have special training in caring for infants, children and adolescents.
Our 30-bed inpatient unit, located on our University Campus in Worcester, is child and family friendly. Pediatric inpatient care provided by pediatric hospital medicine specialists is also provided at HealthAlliance Hospital.
Pediatric Hospital Medicine
Pediatric hospital medicine specialists (physicians who direct, coordinate and provide patient care for inpatients) take the main responsibility for inpatient care working closely with the referring doctor. They work with many pediatric caregivers including:
Specialists (e.g., surgeons, neurologists, orthopedists, etc.)
Nurses
Dietitians
Psychologists
Shelly's Place
Your child can relax, play and explore in Shelly's Place, the playroom and teen room on our inpatient unit. Free play and daily planned activities are good for kids to take part in to get their minds off of their health issues and help in the healing process.
Shelly's Place is recognized as a "safe area," as medical procedures and discussions are restricted to treatment or patient rooms. Children are encouraged to use the toys and games in the playroom, or they can take items back to their rooms for play.
In addition, your child can enjoy movies on special channels for pediatric patients, as well as computer and Internet access. Video game consoles are available.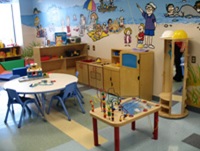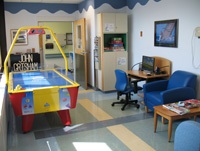 Intensive Care
Intensive care for newborns is provided in our Neonatal Intensive Care Unit (Memorial Campus). In addition, our Pediatric Intensive Care Unit (PICU) (next to the inpatient unit) is the only PICU in Central Massachusetts. If your child has life-threatening medical, surgical and trauma care needs, our experts can help.
Children's Medical Center
University Campus, 
55 Lake Avenue North
Worcester, MA 01655
Contact Pediatric Inpatient Unit:
Patient Information Line: 508-334-2901
Inpatient Nursing Station: 508-856-2071
Visiting hours
11 am - 8 pm