Patty Bonnette, RN, UMass Memorial Medical Center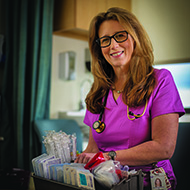 Patty Bonnette, RN, is a nurse in the Cardiovascular Clinic at UMass Memorial Medical Center, and every day, she dedicates herself to going the extra mile as a caregiver. In the outpatient clinic setting, Patty treats, educates and guides patients toward healthier lifestyles in order to more successfully combat heart disease. She also works with admissions and emergency department referrals, as well as triage cases (appointments, walk-ins and phone calls), working hard to ensure that even unplanned visits are handled calmly and professionally.
When asked what her most meaningful patient interaction is, Patty responded: "Any time I can make a patient more comfortable, or feel better." Being a genuinely compassionate caregiver is about more than just dedication during work hours — sometimes, it's about what you do outside hospital walls. For example, an elderly patient once brought all of his medications to an appointment and ended up forgetting them at the clinic; Patty returned them to his house on her way home from work. This is just one of many examples of Patty's remarkable caregiving, everyday.
You can find Patty in the clinic, at the nurses' station, or in the exam room, working to make someone's day just a little bit easier. Her positive attitude makes patients feel less vulnerable. When they're less vulnerable, they have more confidence. And when they have more confidence, they have better outcomes.
Meet our other caregivers at everyoneeveryday.org.