Our talented and visionary physicians are the ones who make the UMass Memorial Medical Group the pioneering team we're all proud to be a part of. To further support their innovative and academic pursuits, the Prize for Academic Collaboration and Excellence (PACE) is a competition we are proud to offer in partnership with UMass Chan Medical School each year.
The PACE award supports the engagement of our Medical Group physicians in cutting edge-research; encourages interdepartmental collaboration; showcases our commitment to academic excellence and reinforces our identity as a group comprised of academic physicians.
The goal of award funding is to support innovative investigator-initiated research and is open to any area of investigation.
In 2023, the PACE Prize was awarded to three winning teams for a total of $400,000 in grant funding: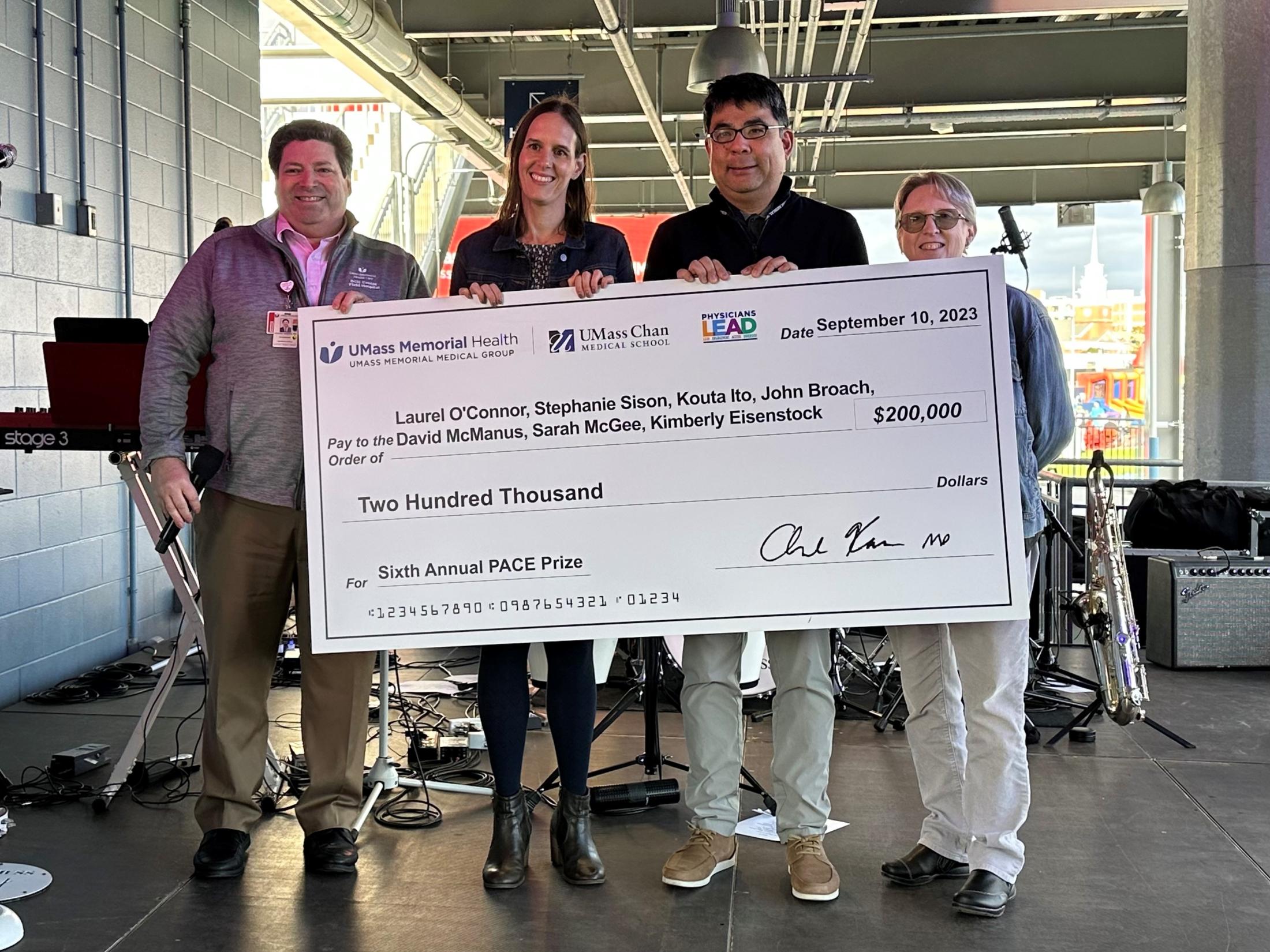 2023 PACE Prize Winner: The PACED Intervention: Paramedic-Assisted Community Evaluation (after) Discharge
Laurel O'Connor, MD, Stephanie Sison, MD, Kouta Ito, MD, John Broach, MD, MBA, MPH, David McManus, MD, MSCI, Sarah McGee, MD, and Kimberly Eisenstock, MD
The period following a hospital discharge is medically precarious in older adults, who are readmitted at alarming rates. However, implementing a rapidly deployable, efficacious, and sustainable program to ensure a safe transition to the community for recently discharged older adults, especially those who are frail, remains a significant challenge. Read how one team aims to build upon some proven efforts to make such a program a reality. Learn more.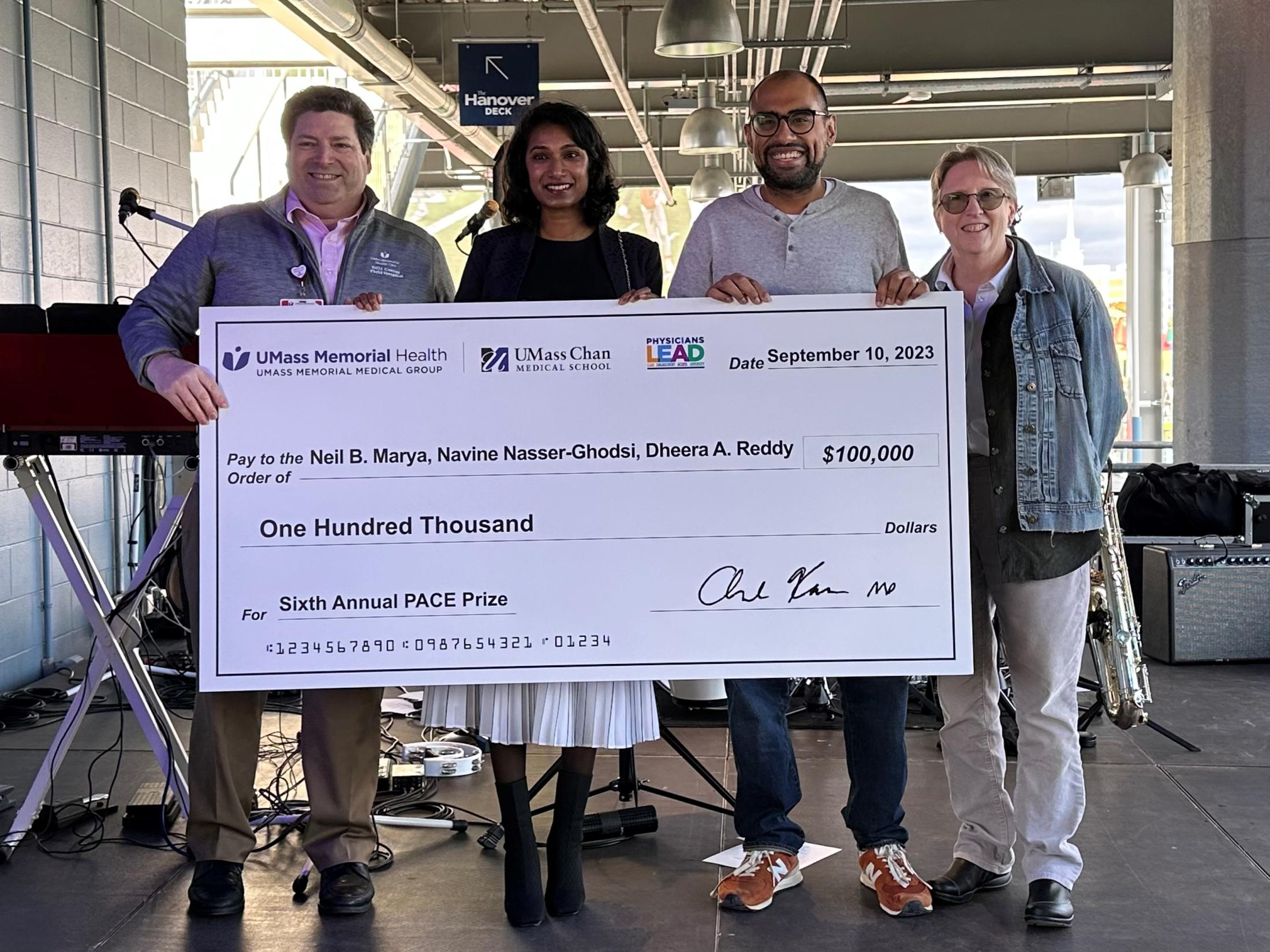 2023 PACE Prize Winner: Development of a Real-Time Artificial Intelligence System to Improve Diagnostic Accuracy and Facilitate Individualized Care for Patients with Cholangiocarcinoma
Neil B. Marya, MD, Navine Nasser-Ghodsi, MD, and Dheera A. Reddy, MD
Available tools to diagnose Cholangiocarcinoma (CCA), a malignanc of the bile ducts, have low sensitivity and accuracy, which delays diagnosis. However, with the help of artificial intelligence, this PACE team may have the key to earlier and more accurate diagnosis of this disease, which will ultimately lead to better outcomes. Learn more.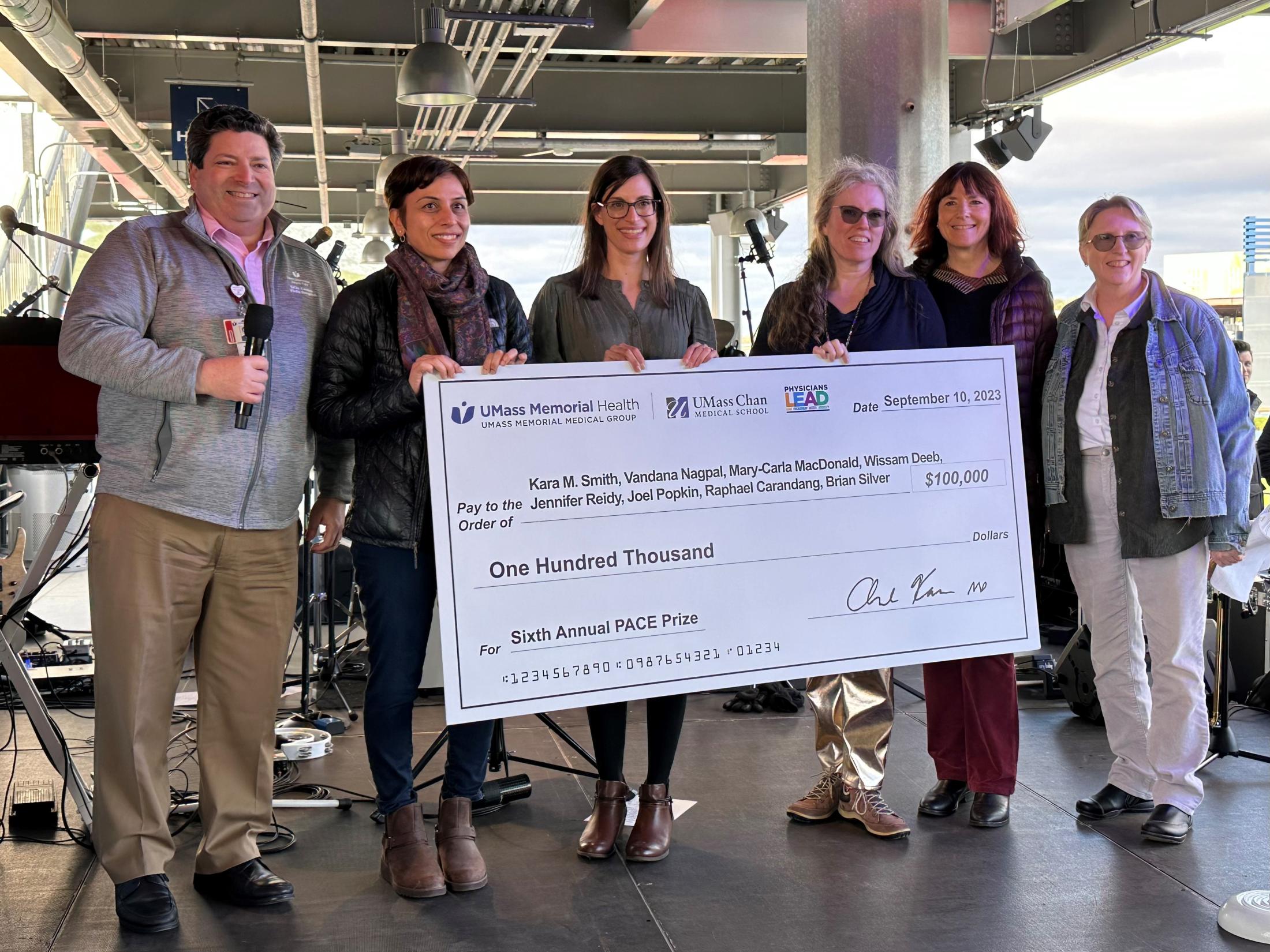 2023 PACE Prize Winner: Music Therapy for Hospitalized Patients with Parkinson's Disease and Lewy Body Dementia: A randomized controlled pilot trial to prevent delirium
Kara Smith, MD, MSCI, Vandana Nagpal, MD, Wissam Deeb, MD, Jennifer Reidy, MD, Mary-Carla MacDonald, MA, MT-BC, Joel Popkin, MD, MACP, Raphael Carandang, MD, and Brian Silver, MD
Music therapy has been shown to be effective for pain and mood, but can it prevent delirium and improve health care outcomes of our patients with Parkinson's Disease and Lewy Body Dementia? One team of caregivers is determined to find out. Learn more.
2022 PACE Prize Winner: A Novel Approach to Predict Intercranial Aneurysm Rupture by Combining Brain Imaging and Gut Microbiome Biomarkers Through Artificial Intelligence
Anna Luisa Kühn, MD, PhD, Mohammed Salman Shazeeb, PhD, Nils Henninger, MD, PhD, Dr Med, Clifford Lindsay, PhD, Beth McCormick, PhD, Vanni Bucci, PhD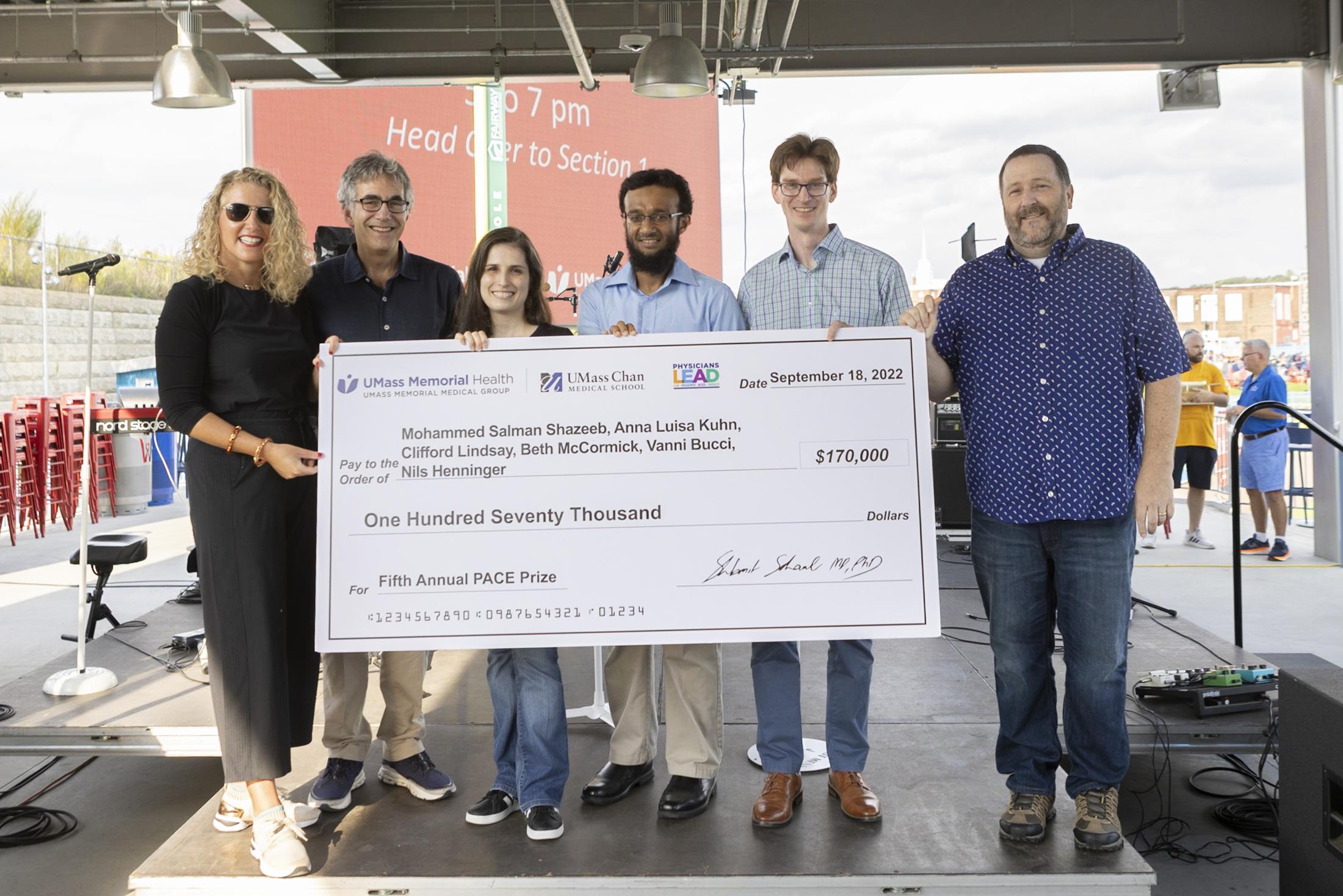 About one in every 50 people in the United States have an unruptured brain aneurysm. The ability to predict when and if an intracranial aneurysm will rupture, along with appropriate timely intervention, would prevent patients from suffering devastating loss of neurological function and even death. Artificial intelligence (AI) has shown incredible success in analyzing anatomical images and predicting a wide variety of medical conditions, and it shows promise for predicting aneurysm rupture, but it is unclear whether there is sufficient information within the imaging biomarkers. Recent and new area of research has shown increasing evidence of a bidirectional relationship between brain physiology and gut microbiota and that can have a role in the pathogenesis of neurological disorders. The team proposes to develop an AI model that uses state-of-the-art brain imaging techniques with the latest research in gut microbiome-brain connection, that can predict accurate timing of aneurysm rupture based on combined brain imaging and microbiome data. Once proven successful in the mouse model, their goal is to translate the AI model to a clinical setting where it can be an invaluable tool in guiding the neurointerventionalists through continued funding.
2022 PACE Prize Winner: Preventing Hypoglycemia Using Smart Watches and Machine Learning
Mark O'Connor, MD, Lucy Ding, Stephanie Carreiro, MD, PhD

Over 10% of the U.S. population has some form of diabetes, and many of these people require pharmacologic treatment with insulin or other medications known to cause hypoglycemia, which can be unpredictable and even life-threatening. Even when hypoglycemia is less severe, it can cause significant anxiety and distress. And fear of hypoglycemia can lead to inconsistent medication use, poor glycemic control and an increased incidence of diabetic complications. A completely non-invasive way to detect hypoglycemia before it becomes severe would benefit a large number of people. Over the last few years, wearable biosensors such as smart watches have become increasingly affordable and accessible to large swathes of the population, and these devices open up new avenues for hypoglycemia detection. As a person becomes hypoglycemic, adrenergic tone increases, leading to tachycardia, decreased heart-rate variability, and sweating. Parameters such as heart rate and skin electrodermal activity (a measure of sweating) can be measured with relative ease by available smart watches and other biosensors. This team's hypothesis is that these data can be used to detect hypoglycemia before it becomes severe. Their long-term goal is to leverage wearable technology, which is progressing at a rapid pace, to create a new tool to protect people with diabetes from dangerous hypoglycemia.
2020-2021 PACE Prize Winner: Application of A Novel CT Angiographic Method to Measure Myocardial Blood Flow in Chest Pain with Normal Coronary Arteries
Timothy Fitzgibbons, MD, PhD, Hao Lo, MD, MBA, David Gerson, MD, Sneha Chinai, MD, Jeffrey Rade, MD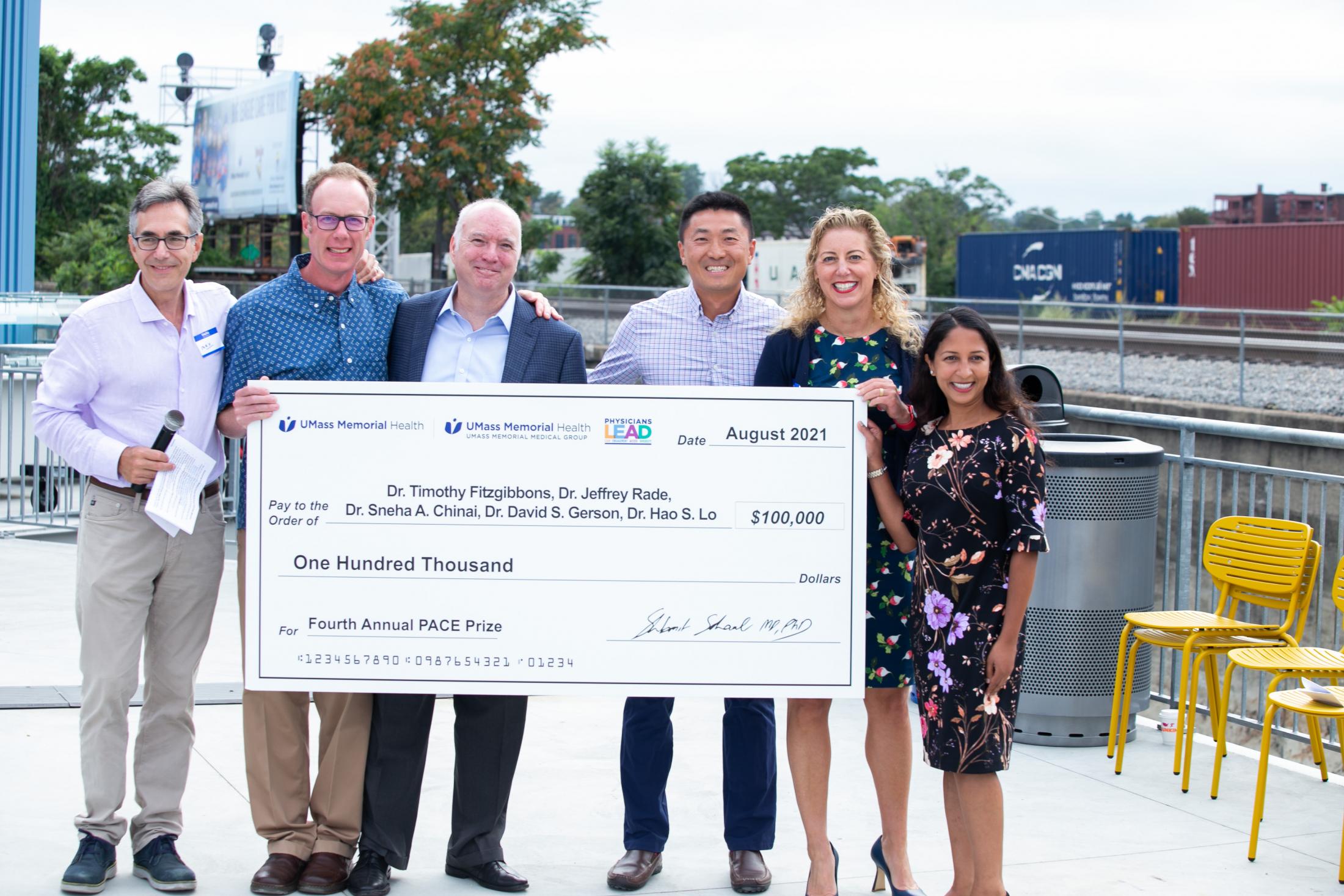 Cardiovascular disease (CVD) is the leading cause of global mortality. Nationwide, thousands of patients present to the emergency room (ER) with chest pain daily. In those without acute myocardial infarction it can be difficult to determine the cause of pain and whether it is due to heart disease. Coronary CT Angiography can expedite this process by effectively triaging chest pain patients, reducing ED length of stay and increasing patient satisfaction. However, many patients with chest pain are found to have no coronary disease. A subset of these patients has endothelial dysfunction, which causes reduced myocardial blood flow (MBF) and ischemia, a condition termed microvascular angina (MVA). This condition is more common in women, diabetic and obese patients and is difficult to diagnose because there is no simple noninvasive test to measure MBF. For this reason, MVA patients often have multiple ER visits, and are delayed in their referral to cardiology because they are not given a clear diagnosis. In this proposal we will investigate the utility of the volume/mass (V/M) ratio (a parameter obtainable for a normal cardiac CT) as a noninvasive measure of MBF and identify patients with MVA. We hypothesize that patients with MVA will have a reduced V/M ratio and this correlates with endothelial dysfunction and poorer patient outcome. Utilization of this method will allow for the more accurate identification of MVA and provide an objective endpoint that can be used in interventional trials to reduce morbidity and mortality of this challenging condition.
2020-2021 PACE Prize Winner: Prescription CPR: Targeting At-risk patients to Save Lives
Chad Darling, MD, MSCI, FACEP, Joseph Sabato, MD, Hanna Ahmed, MD, MPH
Out-of-hospital cardiac arrest (OHCA) is the most common cause of death outside the hospital setting, affecting more than 1,000 American adults daily. More than 70% of these events occur in the home, and 40% are witnessed by family or friends. Patient survival depends upon immediate bystander cardiopulmonary resuscitation (CPR), and survival may be further improved by the timely application of an automated external defibrillator (AED). Survival after OHCA averages 8 - 10% in the US, but locally it is only 3%. In an effort to save lives following OHCA, we have developed a prescription CPR (pCPR) program that consists of highly focused training   in recognizing cardiac arrest, accessing 911, performing CPR and using an AED. The primary objective of the pCPR program is to identify individuals in the hospital who are at increased risk for OHCA and offer training in lifesaving interventions to their family/caregivers who will be the likely bystanders at the time of an OHCA. The long-term goal is to save lives by significantly expanding UMass Memorial Health's ability to provide CPR training to our patients, and to examine how partnerships between hospitals, physician practices, EMS agencies, and the community can support widespread and sustainable CPR training for caregivers and friends of at-risk patients.
2019-2020 PACE Prize Winner: Multiple Sclerosis and CD8 T Cells Responses to Epstein Barr Virus (EBV)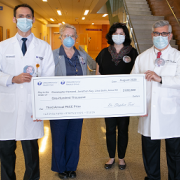 Christopher Hemond, MD, Liisa Selin, MD, PhD, Anna Gil, PhD, and Jonathan Kay, MD 
Multiple sclerosis, lupus and inflammatory arthritis are devastating autoimmune diseases that, if left untreated, may result in chronic disability and decreased quality of life. Emerging evidence strongly links multiple sclerosis to an abnormal immune response to the common Epstein-Barr Virus (EBV) infection. This project will characterize how the antiviral CD8 T-cells of the immune system respond to EBV and, in doing so, will explore basic principles of disease pathophysiology. By improving understanding of the interplay between the immune system and EBV, the team aims to discover better biomarkers for these diseases and ultimately to develop novel, personalized approaches to treatment.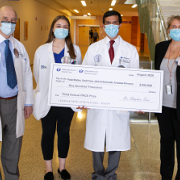 2019-2020 PACE Prize Winner: Gene Silencing with siRNA During Liver Machine Preservation to Alleviate Ischemia Reperfusion Injury of Severely Ischemic Liver Grafts    
David Cave, MD, PhD, Julianna Buchwald, MD, PhD, Graduate Student, Paulo Martins, MD, PhD, and Anastasia Khvorova, PhD 
Chronic liver disease causes more than 30,000 deaths annually in the U.S. The goal of this project is to improve the quality of suboptimal liver grafts that would otherwise be discarded. More specifically, the team will try to improve the quality of liver grafts by using gene modulation approaches during machine pump preservation — before transplant — to prevent damage and cellular death. This approach has the potential to improve transplant outcomes and decrease the discard rates, thereby increasing the pool of liver grafts and reducing wait time and mortality on the liver transplant wait list.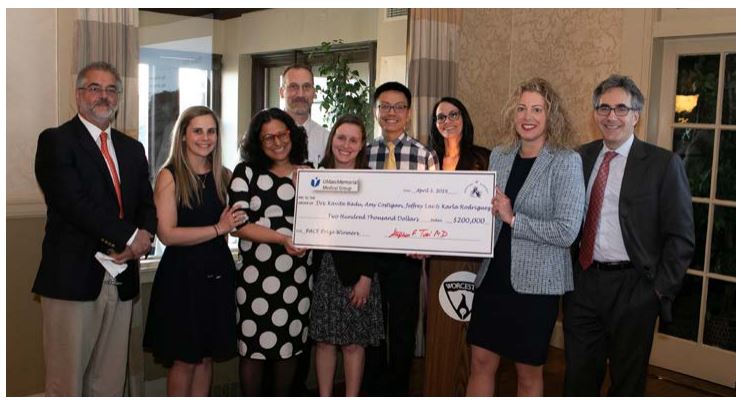 2018 PACE Prize Winner: Telemedicine-based Substance Use Disorder Evaluation (TeleSUDE) to Facilitate Treatment After Opioid Overdose 
Kavita Babu, MD, Amy Costigan, MD, Jeffrey Lai, MD, and Karla Rodriguez, MD 
They will develop an unobtrusive and effective telemedicine approach to provide adequate substance use treatment planning before discharge at remote emergency departments in our hospital system. Read the Worcester Business Journal story.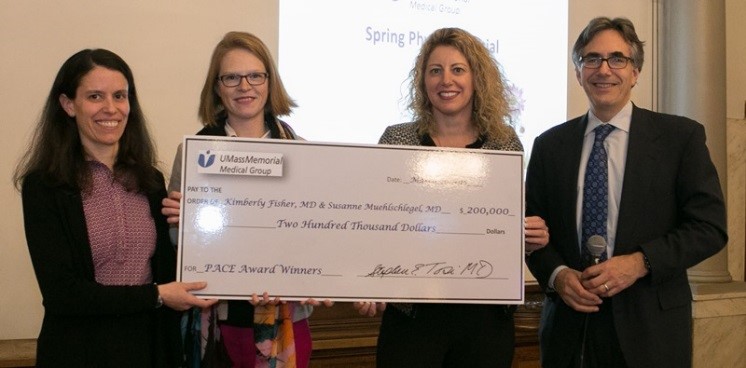 2017 PACE Prize Winner: Improving Care Transitions
Kimberly Fisher, MD and Susanne Muehlschlegel, MD, MPH 
The project will identify and develop effective strategies for improving care transitions from the hospital to home by identifying a more comprehensive range of factors and strategies associated with high performance. Read the T&G story.