Whether in the hospital, in the emergency room or in a clinic, your child has basic needs that must be met, and these needs may be magnified by illness, injury or loss of the familiar routines of life.
To help support their special psychosocial and educational needs, the UMass Memorial Children's Medical Center has certified child life specialists to help them and you cope with a potentially stressful health care experience.
What We Do
Create a child-friendly, family-centered environment
Provide recreational, therapeutic and medical play opportunities
Work with you and your child to create a plan of care to best support their identified needs
Lessen anxiety and stress through emotional support, information sharing and coping interventions, such as distraction and imagery
Promote growth and development through normalization of the medical setting
Encourage and enable your involvement in the care process
Child Life Services
Happy Wheels Hospitality Cart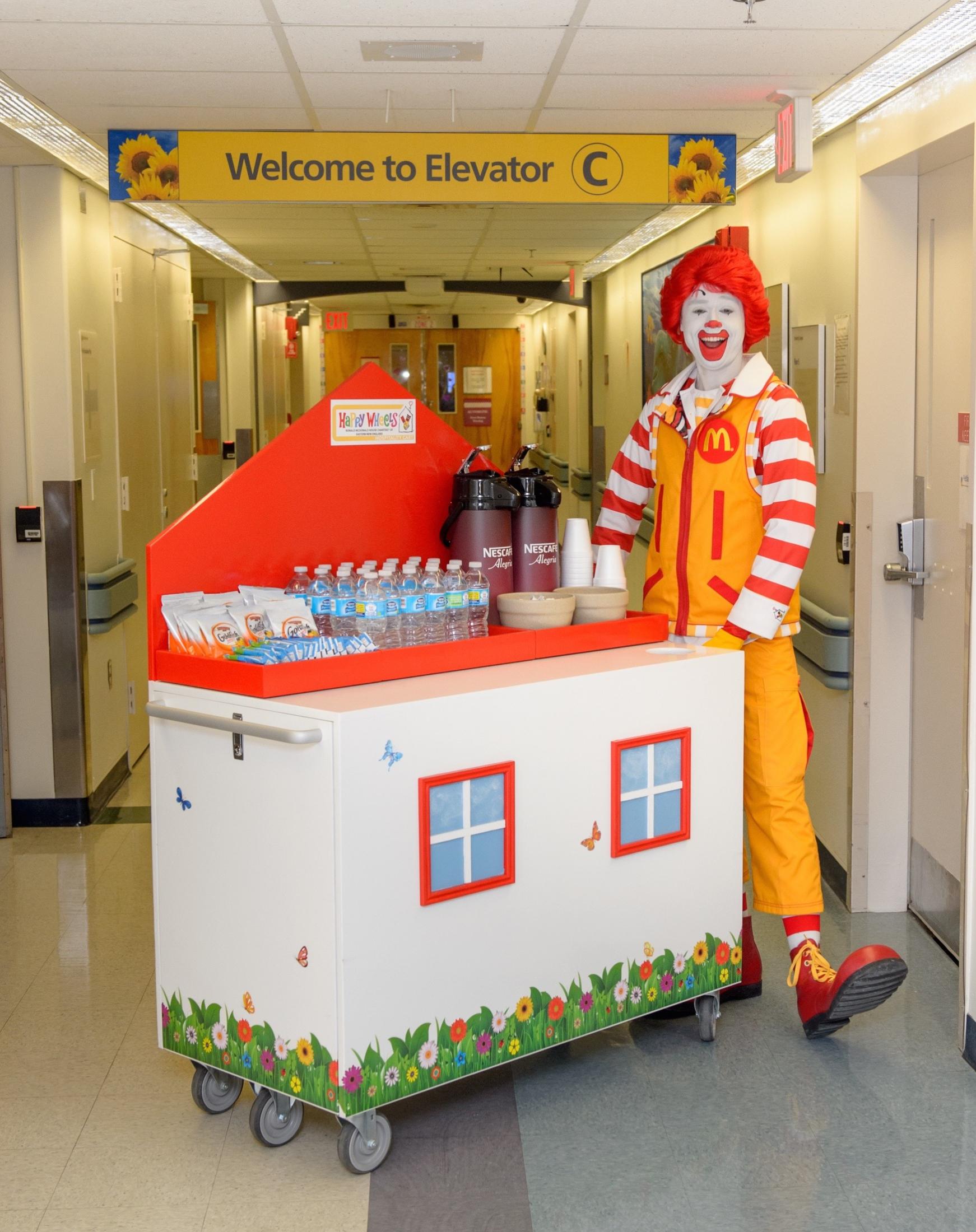 Children staying on our Pediatric Intensive Care and Pediatric units are treated to visits from the Happy Wheels Hospitality Cart, provided by Ronald McDonald House Charities of Eastern New England. The adorable mobile cart is stocked with books and activity kits for entertainment, hot drinks, water and healthy snacks, as well as a variety of other comfort items creating an endless amount of warm smiles.
Play Opportunities
Play provides your child an outlet to explore feelings and concerns as well as fulfill the developmental need to play. While building trusting relationships, the child life specialist is able to assess and correct misconceptions or fantasies about the health care process.
Preprocedure Preparation
This program helps familiarize your child to the sights, sounds, people and sequence of events during procedures. Questions and concerns as well as coping techniques are also addressed.
Special Events and Entertainment
Special events and entertainment reinforce normalcy with activities such as recognition of birthdays, holiday traditions, the celebration of finishing chemotherapy, and completion of treatment or going home parties. The weekly ice cream sundae event and special entertainers, such as visiting clowns from the "Clown Care Unit," help make your child's hospital stay more comforting.
If you are interested in performing or holding a special event, view our guidelines and application. 
Tutoring Program
To help maintain connections with teachers and classmates and to keep pace with homework, child life staff can assist you in acquiring tutoring services for school work.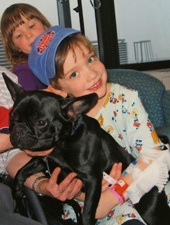 Specially trained, certified dogs make short, bedside visits to our patients who would like the company of a furry friend.
Pet Therapy Program
The Pet Visitor Program uses trained volunteer handlers and their adult dogs. Accompanied by a child life specialist, dogs make short, bedside visits to patients who would like the company of a furry friend.
Pet visits brighten the day of both patients and staff. All dogs undergo yearly veterinary examinations and behavioral screening tests, and before each visit all dogs are bathed and curbed.
You Can Support Pediatric Patients Too
Thanks to our Child Life team, patients and their families enjoy toys, games and activities in our playroom, teen room, waiting areas and at patients' bedsides. Gifts go a long way toward making the hospital a less threatening place and brightening a child's stay. Your gift of new toys, stuffed animals, arts and crafts kits, or financial donations is greatly appreciated and makes a big difference in a child's hospital stay.
Wish List, Projects and Guidelines
Online gift registry through Child's Play Charity via Amazon.
Donate to the Child Life Fund.
Helping Children Cope with Health Care Experiences
Learn more about our child life internship opportunities for college and graduate students. 
Children's Medical Center
University Campus, 
55 Lake Avenue North
Worcester, MA 01655