David Vogel, Safety Intelligence Data Specialist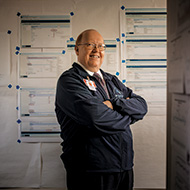 You might wonder how data specialist David Vogel's job has a critical impact on the quality and safety of our patients. In his role as database administrator in UMass Memorial Medical Center's Risk Management Department, he manages the occurrence and patient concerns reporting system known as Safety Intelligence.
This essential system is the conduit between frontline nurses and risk managers, patient care representatives and senior leadership to track safety and quality data. Information comes to David from caregivers who submit occurrence reports via an online form.
"Risk Management uses these reports of occurrences – such as patient falls and medication events – to track and trend issues. In the case of serious occurrences, we conduct root cause analyses of hospital processes in order to improve patient safety," explained David.
According to his nominator, Lorna Prince, nurse manager, 7 East, "David just does a stellar job in responding to any questions that arise around the databases and how they work. He is impeccable in his response to our questions any time of the day or night. He is the consummate professional."
David, who started working at the Medical Center in 1994 as a temp, joined the Clinical Decision Support Department in 1998 (today called Analytics Department) and the Risk Management Department in 2008. He takes great pride in his work to routinely publish information to the inpatient floors, his responsibility as the "help desk" for Safety Intelligence and as a member of the Risk Management Team.
"Working with my colleagues is definitely worth getting up in the morning," he said. "I enjoy my work, the unity among our team, and mutual respect and recognition between us."
Meet our other caregivers at everyoneeveryday.org.