Anthony Calamare, Orthopedics Technician, UMass Memorial Medical Center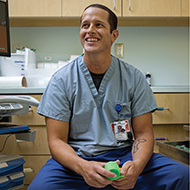 Anthony Calamare grew up in Worcester's Grafton Hill neighborhood. While in high school, a group of his friends were involved in a serious auto accident. Anthony witnessed the aftermath of the crash scene and the devastating injuries suffered by his friends. "I felt helpless," he said. "This motivated me to get into health care."
He has since dedicated his life to being a caregiver on multiple fronts, including as an orthopedics technician at UMass Memorial Medical Center. Anthony works in the Ambulatory Care Center (ACC) at the University Campus. He fits both adult and pediatric patients recovering from bone fractures with casts, boots, braces, and splints. "In the winter, we see people who fall on the ice, and in summer, we see sports injuries," Anthony said. "There's really not a slow time."
Regardless of what brought them in, Anthony tries to put everyone at ease. "I try to reassure them and get them to relax," he said. "I tell them they're in good hands." The small electric saw he uses to remove the cast frightens some people, particularly children. "The saw is so safe, I hold it on my own skin while it's running to show the patient they have nothing to fear," Anthony said. "The kids are actually interested in what I'm doing."
Anthony brings his easy-going manner and positive attitude to work, every day. "Some patients have had life-altering injuries, and we follow them for months, even years," he said. "We develop relationships with them and get on a first-name basis. They become like family to us."
His fellow caregivers are like family, too. "Everyone here deserves credit," he said. "We have a great team of doctors and staff in orthopedics who work really hard to help each other." Anthony brings this spirit of teamwork to his part-time work as an emergency medical technician (EMT) in Leicester and Marlborough. He started out at UMass Memorial Medical Center as an Emergency Department personal care assistant 10 years ago. How does he do it all? "You have to be a people person," Anthony said. "You can teach anybody to do the technical stuff, but this work requires patience and compassion."
Meet our other caregivers at everyoneeveryday.org.