When you have joint pain, every step becomes about finding relief
The musculoskeletal experts at UMass Memorial Medical Center in Worcester MA can help with specialized orthopedic care. And with multiple locations across our region - including Worcester, Leominster and Westborough - the decision about where to go for bone and joint relief is an easy one.
Finding an Orthopedic Physician is Easy  
With more board-certified surgeons and orthopedic specialists than anywhere else in Central New England, we are defining the future of musculoskeletal care and orthopedics, all with you in mind. View a list of our physicians.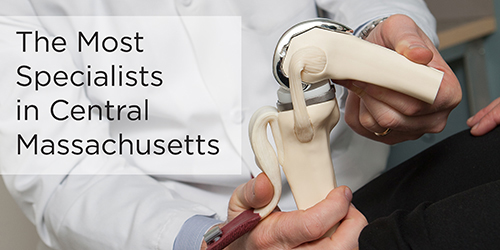 Our Quality Measures
Unparalleled specialty expertise and volume of experience
Recognized nationally as leader in quality, patient care, education and research
Recognized by US News & World Report as high performing in hip replacement and knee replacement
Designated as a Blue Distinction® Center+ for Knee and Hip Replacement and Blue Distinction® Center for Spine Surgery