About Our Orthopedics Department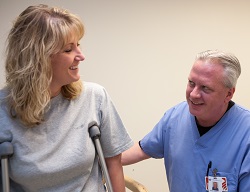 You don't need to travel far for the very best orthopedic care when joint or back pain, broken bones, arthritis or sports injuries make it hard to live a full life. Excellent care for these problems is right here in Worcester, MA.
Our board-certified specialists provide compassionate care and treatment for a wide range of orthopedic problems and are known for:
Joint replacement excellence: Our joint replacement program is nationally recognized for excellence.
Largest subspecialty practice in the state: You will not find a larger, more comprehensive group of orthopedic subspecialists in Central New England. As part of UMass Memorial Health, our network includes orthopedic doctors at our other member hospitals and in our community practices.
High volumes: We treat thousands of patients a year, speaking to our experience and expertise.
Comprehensive Orthopedic Services at UMass Memorial Medical Center
Orthopedic problems can cause pain, stiffness and difficulty moving. When you need to get back to the activities you love, turn to the experts at UMass Memorial. You'll find the region's largest team of experienced orthopedic care specialists and patient-focused care at our Musculoskeletal Center of Excellence in Worcester, MA. 
Patient Focused
Comprehensive care: You'll find a full range of diagnostic (tests/X-rays) and treatment services. Find out more about the care we provide.
Research: As the major teaching hospital of UMass Chan Medical School, many of our orthopedic surgeons are involved in research, clinical trials and medical education. Their work is defining national standards of care for orthopedic and musculoskeletal conditions. This means you'll have access to the most advanced orthopedic care, right here. Learn more about research and training.
Experience
Orthopedic care from A to Z: Our highly trained orthopedic surgeons perform a comprehensive range of orthopedic procedures and operations. We offer specialists in every area of orthopedics including joint replacement, sports medicine, physical rehabilitation, hand surgery, pediatric orthopedics, spine treatment, trauma care, rheumatology, and orthopedic oncology.
National reputation: The UMass Memorial Health Department of Orthopedics, located at UMass Memorial Medical Center in Worcester, is nationally known for the quality of its orthopedic and total joint replacement care.  Blue Cross Blue Shield designated the Medical Center as a Blue Distinction Center+ for Specialty Care® in knee and hip replacement, as well as Blue Distinction Center for Specialty Care® in spine surgery.

     
Providing Team Care
Comprehensive orthopedic care: With nearly 100 experts covering every area of orthopedics and rheumatology, our medical center offers you more fellowship-trained, subspecialties than any other hospital in Central New England.  UMass Memorial Medical Center is your one-stop resource for complete orthopedic care. See a full list of the services we provide.
Coordinated care: Our teams of physicians, top orthopedic surgeons, highly skilled rheumatologists and physical therapy specialists work together to provide coordinated care to patients.          
In addition to our Musculoskeletal Center of Excellence in Worcester, orthopedic, sports medicine and podiatry services are available at several other locations across the region, including Leominster and Westborough. 
UMass Memorial also provides expert orthopedic care for children across our region, including highly specialized board-certified pediatric orthopedists at the Medical Center in Worcester. Learn more about Pediatric Orthopedics.