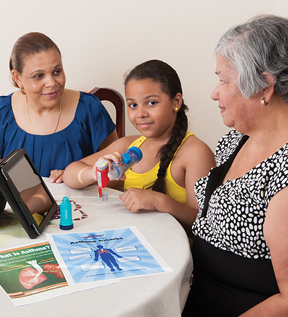 Managing your child's asthma may be a challenge for your family. Through an in-home asthma program, UMass Memorial Medical Center helps identify home triggers and connects Worcester families with asthma education and other resources to better manage the disease.
Program Addresses Asthma Education and Management
Asthma is prevalent among populations living in public and older housing facilities, where in addition to common triggers like cigarette smoke, pets and pollen, more subtle problems such as mold, dust mites, mice and roach infestations can exist.
"Asthma is a common condition that affects about 10 percent of our patients," said pediatric primary care physician Beverly Nazarian, MD. "It's serious for children living in low-income housing because they may be exposed to more triggers and parents cannot make changes to their rented home. Based on successful evidence-based programs elsewhere, our approach includes legal assistance as well as in-home visits to identify triggers, provide appropriate cleaning and bedding supplies, and connect families to asthma education and other resources."
Children Benefit from Preventive Approach
Referred by school nurses — a unique aspect of this program — parents and students meet at home with a known and trusted UMass Memorial community health worker (CHW). "It's important to provide family-centered care in the context of home and culture," said Dr. Nazarian. "If we focus solely on medication, we may overlook something. A culturally competent CHW is an effective liaison to a child's home, school and medical home."
Parents may keep asthmatic children at home, due to cold weather, lack of transportation to pick up inhalers or caring for a young baby at home. When they gain awareness that asthma is controllable and their child can participate more fully at school, they become more invested in a management plan.
"We have to be proactive about asthma, and addressing it only at an annual physical isn't the best option," added Dr. Nazarian. "We need to see children more often and focus on education and prevention. By engaging school nurses and in-home CHWs to reiterate the message, we provide a multipronged approach that works for these families who have so many competing priorities for basic needs."
Worcester Pediatric Asthma Intervention Task Force
UMass Memorial Medical Center co-chairs a comprehensive Pediatric Asthma Intervention, including 11 total community partners. The effort focuses on reducing school absenteeism, hospitalizations and Emergency Department (ED) use among high-risk asthmatic children in Worcester where rates of asthma-related ED visits are nearly double that of the state.
Follow Us on Social
Read The CEO's Blog