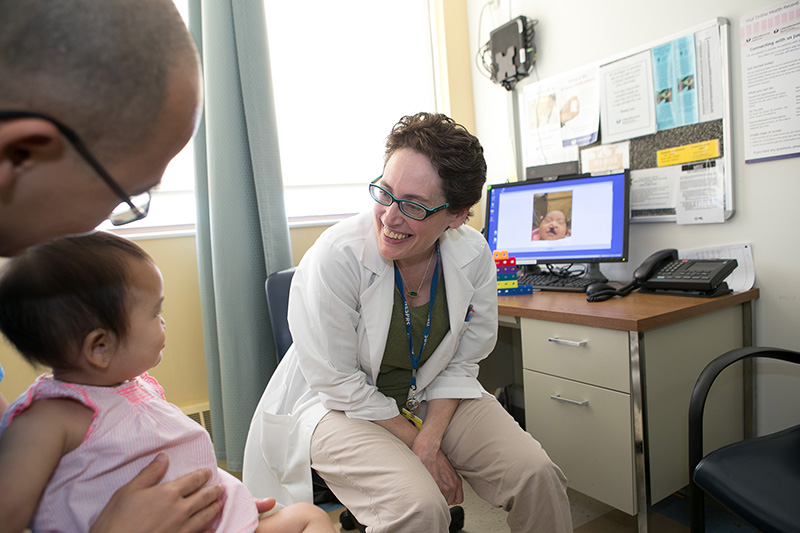 The Craniofacial Clinic at the Children's Medical Center is one of the busiest pediatric and adult craniofacial programs in New England. Our craniofacial team sees 250 new patients a year and continues to follow and care for more than 500 patients annually, even after their surgeries are complete. At UMass Memorial, you have access to the most specialized and sophisticated surgical care, and the very best clinical research in our field through our academic partner, the University of Massachusetts Medical School. Our team's expertise ranges from the rarest craniofacial conditions to more common pediatric plastic surgery problems. 
Our program is as unique as your child. In our Craniofacial Clinic at the Children's Medical Center, we know each child with a craniofacial difference is precious. Our surgeons and team take the time to really get to know our patients and their families, their triumphs and their challenges. We are the innovators and leaders in craniofacial care nationally, but we know you know your child best. Working together, we will develop the finest comprehensive care plan for your child, combining technical and research innovations with compassionate pediatric care so that your child can get on with the business of being a kid with a bright future. 
Craniofacial Disorders We Treat
Craniofacial anomalies (irregularities) and syndromes (anatomy of a newborn's skull)
Craniosynostosis and syndromic craniosynostosis (Apert, Pfeiffer, Muenke, Crouzon, Saethre-Chotzen, etc.)
Facial clefts and tumors
Misalignment of the eye sockets
Pierre Robin syndrome and anomalies
Post-traumatic deformities of the orbits, jaws and skull
Treacher-Collins syndrome
Specialized Procedures
Specialized procedures we perform include:
Advanced surgical techniques including preoperative virtual surgical planning and 3-D printing models to assist in surgical and reconstruction procedures
3-D CT scans
Nasal endoscopy (to examine the interior of the nose and sinus)
Video fluoroscopy (to help diagnose swallowing disorders)
Hearing test before speech is developed
Cephalograms (side view X-ray of the face)
Long-term monitoring of facial growth, development and function
Meet Jack. Born with a cleft lip and palate, Jack underwent multiple surgeries to repair his deformities and is now a happy, playful toddler. Hear what his mom has to say about the care he received at the Craniofacial Clinic at UMass Memorial's Children's Medical Center.
Children's Medical Center
University Campus, 
55 Lake Avenue North
Worcester, MA 01655