Marlborough Hospital Vaccination Center at Marriott Courtyard
UMass Memorial Health, Edward M. Kennedy Community Centers and The City of Marlborough are pleased to offer residents appointments for the COVID-19 vaccine at our vaccine clinic at the Marriott Courtyard on 75 Felton Street in Marlborough. 
Directions to Marriott Courtyard. Free parking is available and the facility is handicap accessible. Enter through the Banquet and Ballroom Entrance and follow the signs to COVID-19 VACCINATION REGISTRATION. 
These vaccinations are for two doses, the second dose appointment will be scheduled when you check in for your first appointment.
If you have already received your first dose at another location, you are still eligible to receive your second dose at our Vaccine Clinic. Please specify whether you received Moderna or Pfizer in the Comments section when you schedule an appointment. If you are a walk-in, please let our registration staff know.
For more information, please call: 508-486-5660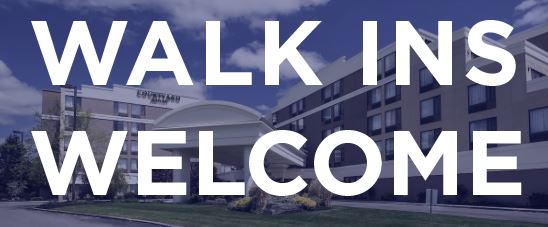 | | |
| --- | --- |
| Monday, Wednesday, Friday | 8am - 2pm |
| Tuesday, Thursday | 8am - 5pm |
If you would prefer to schedule an appointment, please click the BOOK ONLINE button below. Insurance is not required to receive a vaccination, so if you do not have insurance select "Generic" and enter N/A in the Member ID and Subscriber ID fields.

Clique aqui para agendar sua consulta hoje. O seguro não é exigido para receber a vacina, portanto, se você não tiver seguro, selecione "Generic" e digite N / A nos campos Member ID e Subscriber ID.
Presione aquí para programar su cita hoy. No se requiere seguro para recibir la vacuna, por si no tiene seguro seleccione "Generic" e ingrese N/A en los campos de Member ID y de Subscriber ID. 
The vaccine is available for anyone 12 years of age and older. You will need to fill out a vaccination consent form for individuals ages 12 to 18. We will call their parent or guardian when they check in at the vaccine clinic. You can also book for a loved one, provided you have all of their details. If there are no appointments available, please check back daily.
If for some reason you are unable to keep your scheduled appointment, we kindly ask that you call us at least 48 hours in advance so we may be of assistance in rescheduling your appointment.
If you are an existing patient with a myChart account, you can cancel or reschedule in myChart.  
If canceling or rescheduling an appointment by phone, call 877-509-8838. The scheduling office hours are 7 am to 8 pm (Monday to Friday) and 9 am to 5 pm on Saturdays.