Ronald McDonald Care Mobile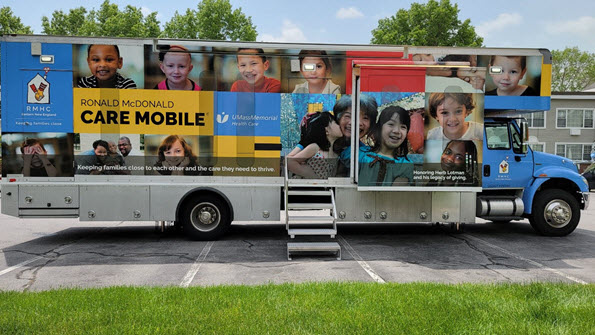 The UMass Memorial Health Ronald McDonald Care Mobile delivers an innovative, community-based model of medical services and preventive dental care to the vulnerable, socioeconomically disadvantaged, uninsured and undocumented children and their families living in Worcester County. The Care Mobile services 22 Worcester public and charter schools with 9 neighborhood sites across the city. Our routine sites include neighborhood and community centers, churches, and apartment complexes. 
Care Mobile Locations          2023 Schedule
Brief History
Chosen as the first of its kind prototype, the Care Mobile program was developed through a partnership with Ronald McDonald House Charities and UMass Memorial Medical Center in the year 2000. There are now over 50 Care Mobile's throughout the world. Disadvantaged children and their families can fall through the cracks when it comes to accessible medical and dental care. Since the beginning, the Care Mobile has been one of the flagship programs of UMass Memorial Health's effort to reduce health care disparities within our community.
Our Services 
After more than a year-long hiatus due to the COVID-19 pandemic, the Care Mobile has recently returned to the community. We are now offering medical and preventative dental services in the community and preventative dental services in the Worcester Public Schools.  We are currently open on Tuesdays and Wednesdays from 9am-3pm and will be in 9 different community sites throughout each month. In addition to providing preventive medical and dental care, the staff works to connect children and their families to primary care physicians, dentists and other providers, as well as help them enroll in appropriate insurance programs.
Our vehicle is wheelchair accessible, but we are unable to accommodate patients who are confined to stretchers or gurneys. If you have questions about our services or about patient accommodations on the Care Mobile, please call our Outreach Liaison, Nardy Vega at 508-341-9416 for more information.
To make an appointment, please call our Care Mobile Schedulers line
| | | |
| --- | --- | --- |
| Medical | Dental | Outreach |
| Physical exams | Dental health care | Health education |
| Well-child and adolescent car | Sealants | Advocacy |
| Non-urgent sick visit | Dental cleaning | Health insurance referrals |
| Blood pressure checks | Dental screenings (Worcester Public Schools) | Physical referrals |
| Lab tests | Fluoride treatment | Community resources |
|   | Dental referrals  | Bilingual services available |
Call 911 if you have a medical emergency.  If you have a medical emergency and have COVID-19, please notify the operator that you have (or think you might have) COVID-19. If possible, put on a face mask before medical help arrives. 
Please visit the following links for information about COVID-19:
Our Community Support
Through the generosity of Ronald McDonald House Charities of Eastern New England, Inc., UMass Memorial Medical Center launched the nation's first Ronald McDonald Mobile Care Unit during summer 2000.
Care Mobile Locations
Autumn Woods Apartments
(formerly Upland Gardens)
15 Upland Gardens Drive, Worcester 01607
Green Island/Crompton Park
50 Canton Street, Worcester 01610
Plumley Village
34 Laurel Street, Worcester 01608
South Worcester
Neighborhood Center
47 Camp Street, Worcester 01603
Bell Pond - Next to basketball court
Belmont Street Worcester 01605
(near Belmont Street Community School)
YMCA Central Branch
766 Main Street, Worcester 01610
(Murray Avenue side)
Worcester Youth Center
326 Chandler Street, Worcester 01602
Our Lady of Loreto Church
33 Massasoit Road, Worcester 01604
Friendly House
36 Wall Street, Worcester 01604
Clinton Public School Building
150 School Street, Clinton 01510
June 2023
Date
Location
Services
Thursday
June 1: 9 am - 3 pm
Loreto Church
Dental Only
Tuesday
June 6: 9 am - 3 pm
Youth Center
Medical/Dental
Wednesday
June 7: 9 am - 3 pm
Clinton Public Schools
Medical/Dental
Thursday
June 8: 9 am - 3 pm
Green Island
Dental Only
Tuesday
June 13: 9 am - 3 pm
Plumley Village
Medical/Dental
Wednesday
June 14: 9 am - 3 pm
YMCA
Medical/Dental
Thursday
June 15: 9 am - 3 pm
Camp Street
Dental Only
Tuesday
June 20: 9 am - 3 pm
Youth Center
Medical/Dental
Wednesday
June 21: 9 am - 3 pm
Bell Pond
Medical/Dental
Thursday
June 22: 9 am - 3 pm
Green Island
Dental Only
Tuesday
June 27: 9 am - 3 pm
Friendly House
Medical/Dental
Wednesday
June 28: 9 am - 3 pm
Autumn Woods
Medical/Dental
Thursday
June 29: 9 am - 3 pm
YMCA
Dental Only