Ronald McDonald Care Mobile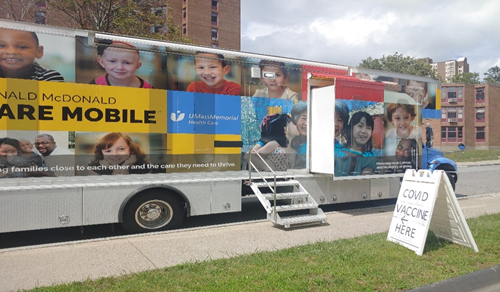 The UMass Memorial Ronald McDonald Care Mobile delivers an innovative, community-based model of medical services and preventive dental care to the vulnerable, socioeconomically disadvantaged, uninsured and undocumented children and their families living in Worcester County. The Care Mobile services 22 Worcester public and charter schools and 9 neighborhood sites across the city. Our routine sites include neighborhood and community centers, churches, and apartment complexes. 
Brief History
Regardless of the good access to medical and dental care here in Massachusetts, disadvantaged children and their families can fall through the cracks when it comes to accessible medical and dental care. Chosen as the first of its kind prototype, the Care Mobile program was developed through a partnership with Ronald McDonald House Charities and UMass Memorial Medical Center in the year 2000. There are now over 50 Care Mobile's throughout the world.  Since the beginning, the Care Mobile has been one of the flagship programs of UMass Memorial's effort to reduce health care disparities with our community.
Current Services as of September 2021
After more than a yearlong hiatus due to the Covid19 pandemic, the Care Mobile has recently returned to the community. We are now offering medical services in the community and dental services in the Worcester Public Schools.  We are currently open on Mondays and Thursdays from 9am-3pm and will be in 9 different community sites throughout each month. In addition to providing preventive medical and dental care, the staff works to connect children and their families to primary care physicians and other providers, as well as help them enroll in appropriate insurance programs.
To make an appointment, please call our Care Mobile Schedulers line
Our Services
| | | |
| --- | --- | --- |
| Medical | Dental | Outreach |
| Physical exams | Dental health care | Health education |
| Well-child and adolescent car | Sealants | Advocacy |
| Non-urgent sick visit | Dental cleaning | Health insurance referrals |
| Immunizations | Dental screenings (WPS) | Physical referrals |
| Lab tests | Fluoride treatment | Community resources |
| Blood pressure checks | Dental referrals  |   |
Call 911 if you have a medical emergency.  If you have a medical emergency and have Covid-19, please notify the operator that you have (or think you might have) COVID-19. If possible, put on a face mask before medical help arrives. 
Please visit the following links about the coronavirus:
https://www.ummhealth.org/umass-memorial-health-care/coronavirus-resources/covid-19-testing-locations-and-information
http://www.worcesterma.gov/coronavirus
What to Do if You Are Sick
https://www.cdc.gov/coronavirus/2019-ncov/if-you-are-sick/steps-when-sick.html
Our Community Support
Through the generosity of Ronald McDonald House Charities of Eastern New England, Inc.  UMass Memorial Medical Center launched the nation's first Ronald McDonald Mobile Care Unit during summer 2000.