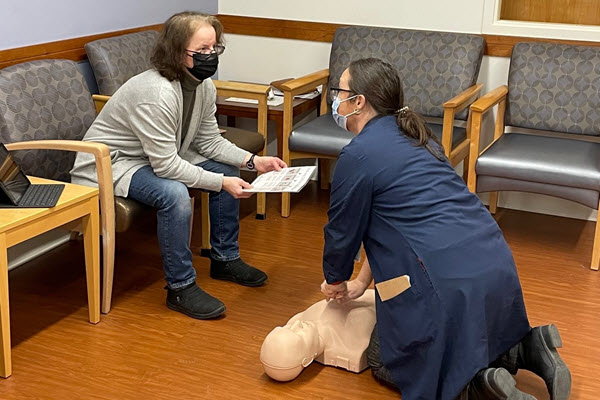 Hands-free CPR is taught to families while a loved one is in the Cath Lab. 70% of non-hospital heart issues occur in the home.
December 13, 2021

- Telegram & Gazette

December 13, 2021

- Boston Globe

The Massachusetts Medical Society is pushing for a statewide mask mandate for indoor public spaces, with COVID-19 cases rising and straining hospitals, as several cities and towns have already reinstituted mandates in their communities.

December 12, 2021

- Spectrum News 1

WORCESTER, Mass. — Police departments across central Massachusetts handed out gift cards in exchange for guns on Saturday as part of UMass Memorial Health's annual "Goods for Guns" buyback program. 

Participants received gift cards ranging in value from $25 to $75, depending on the type of guns they handed in.

December 12, 2021

- Community Advocate

REGION – The Corridor 9/495 Regional Chamber of Commerce announced the winners of its year-end awards earlier this month, recognizing businesses and individual contributors to the area business community.

December 10, 2021

- Spectrum News 1

WORCESTER, Mass. - It's hard to believe that the most vaccinated state in the country, Massachusetts, is seeing a third surge of COVID-19.

UMass Memorial president and CEO, Dr. Eric Dickson, says it's frustrating to see another surge of the virus, especially with more than 72% of Massachusetts residents being fully vaccinated.

December 10, 2021

- Telegram & Gazette

Worcester and eight other police departments will be conducting a gun buyback program Saturday as part of a collaborative initiative to try to reduce the number of firearms in the community.

People can drop off firearms, unloaded and wrapped up or in a bag, and collect a gift card for groceries without having to provide identification or weapon information.

December 9, 2021

- Spectrum News 1

WORCESTER, Mass. - Students and artists are making garden tools and sculptures from destroyed guns. 

"It's their way of showing that these weapons can be transformed into something beautiful," John Hayden, founder of Guns 2 Gardens Massachusetts, said.

December 9, 2021

- ABC News

Despite having one of the nation's highest vaccination rates, Massachusetts is in the midst of a full coronavirus resurgence. The state's daily case average is now at its highest point in nearly a year, and in the last month alone, new hospital admissions have more than doubled.

December 8, 2021

- MassLive

With Central Massachusetts seeing another COVID-19 surge UMass Memorial Health is reporting a steep increase in inpatient cases over the last month and a lack of beds to meet current patient demand.

In four weeks, there has been a rise from 70 to 198 inpatient cases, Dr. Eric Dickson, the president and CEO of UMass Memorial Health, wrote in an email to caregivers on Tuesday.

December 8, 2021

- WBZ CBS Boston

HOLDEN (CBS) – Karen Raphaelson walks very carefully around her active dogs these days, just off knee replacement surgery that she had to wait a year for. "It's been pretty bad, I'd fall a lot, my knee would give out," said Raphaelson.

December 7, 2021

- Community Advocate

NORTHBOROUGH – Representatives of the UMass Medical School Police Department set up shop in Northborough, Dec. 4 for a "stuff-a-cruiser" donation drive to benefit foster families.

Chief Clanford Pierce, Sergeant Gregory Markiewicz and Officers Gladys Matos and Patrick Clements all gathered at Northborough's Walmart location.

Case numbers are rising, the positivity rate is increasing, and the number of people fully vaccinated has plateaued. And, there's a new variant on the rise: omicron. This week on Ask the Docs, we take listener calls with Dr. Michael Hirsh, Medical Director of the Department of Public Health in Worcester, and director of pediatric trauma at UMass Memorial Health, and to Dr. Todd Ellerin, director of infectious diseases at South Shore Health, to answer all of your COVID questions.

December 7, 2021

- Becker's Hospital Review

The Leapfrog Group honored 149 hospitals with its annual Top Hospital Award. Of those, 72 are teaching hospitals. 

The Leapfrog Group used data from its annual hospital survey to identify the top hospitals. Selection is based on excellence across several quality standards and areas of patient care, including surgery outcomes, medication safety and infection rates.

December 6, 2021

- USA Today

A vaccine mandate for private-sector workers across New York City will take effect this month, Mayor Bill de Blasio announced Monday.

The expansion of de Blasio's "Key to NYC" vaccination program, effective Dec. 27, will cover 184,000 businesses, he said. Vaccinations are already required for hospital and nursing home workers – and city employees including teachers, police officers and firefighters. A vaccination mandate for employees of private and religious schools was announced last week.

December 6, 2021

- Kaiser Health News

News outlets report on the decision of a superior court judge to deny requests from the fire department to delay the city's vaccine mandate, and a separate court decision which lifted a temporary injunction placed on San Diego Unified School District's student shot mandate.

WORCESTER, Mass. — Massachusetts and 15 other states, including Connecticut, have confirmed the presence of the omicron coronavirus variant as of Sunday night — and federal health officials say it is just the beginning.

COVID-19 cases and hospitalizations have been rising in Massachusetts and across the country over the last several weeks, signaling a potential winter surge that could put further strain an an already stressed health care system, as doctors are urging people to get vaccines and booster shots.

The omicron variant is here in Massachusetts.

The state's Department of Public Health says it was detected in a fully vaccinated woman in her 20s who lives in Middlesex County. The department said the woman, who had traveled out of state, had a mild case of COVID-19 that did not require hospitalization.

December 3, 2021

- Telegram & Gazette

WORCESTER — UMass Memorial Medical Center had 70 people waiting for beds at the University Campus on Friday — eight of whom needed intensive care beds — as COVID-19 surges followed after the Thanksgiving holiday. 

UMass Memorial Health President and CEO Dr. Eric Dickson said the worst is yet to come.

December 2, 2021

- Boston Globe

New COVID-19 cases continue to mount at an alarming rate, the state reported Thursday, with more patients streaming into already-strained hospitals just as the new Omicron strain of the virus appears to be taking a deeper hold in the United States.

BOSTON (CBS) – Anxiety over rising COVID-19 numbers had the Cambridge Health Alliance vaccination clinic in Somerville packed Thursday. "Now another new prominent variant," said Joe Mello, who got a booster.

This week's COVID case numbers in Massachusetts are at the highest since January. The positivity rate is back where it was this time last year, at around 5%. "I just hope it doesn't get any worse like before," said Chuck Maxwell, as he got a booster shot.
Pages