Grazyna Rzeszotko, RN, Harrington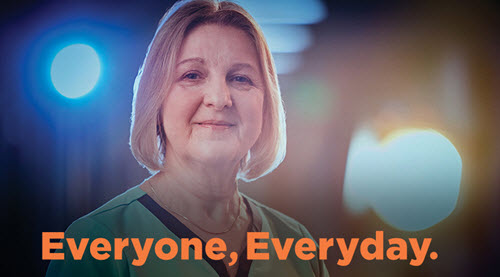 Grazyna "Grace" Rzeszotko, RN, thanks her mother for inspiring her to become a nurse. Grace grew up in a small village in Poland, where her father worked in forestry and her mother stayed home to raise the children — while providing informal caregiving to the community.
"My mom was very gifted and always helping people in need," Grace recalled. "Our house was a first aid place. I remember my mother dressing wounds. One time, a man came to our house after he chopped off his finger cutting wood. My mother was unafraid to help, to stop the bleeding. She also took care of an elderly neighbor who was bedridden, visiting her every day. Observing her, as a child, I thought, 'Someday, I want to become a real nurse.'"
Grace completed nursing college in Poland and earned her registered nurse certification after relocating to the U.S. She joined UMass Memorial Health – Harrington in 2005, first as a bedside nurse, and later as assistant nurse director. Both patients and staff appreciate Grace's positivity, technical expertise and calming presence.
"I like to take time to sit with the patient and talk with them and their family," Grace explained. "That makes it easier for me to take care of them and find out their needs — physical, emotional and social. You have to see the whole patient. I want to make sure they are well before releasing them." Grace often sees the same patients over the years — patients and families who remember her … and are happy she is there.
"I like to check on patients frequently," said Grace, who works four 12-hour shifts a week. "I ask them, 'How do you feel? Do you need anything?' Or I just bring them a warm blanket, or a drink, or comb their hair or change the bed. The little things make a huge impact."
The nursing staff depends on Grace for support and guidance, whether it's helping with patient care, scheduling or other issues. "I approach them a few times a day," she said. "I ask, 'Do you need help? Is there anything I can do for you? Do you want to talk about anything?' I support them as much as I can." She's also known as the "IV queen" for her ability to insert an intravenous catheter and administer medicines in challenging cases.   
Whether directly helping patients, coordinating their care or supporting her fellow caregivers, Grace never stops making sure everyone has everything they need. Every day, her nonstop energy and drive to build relationships and trust strengthens our relentless pursuit of healing.
When not on duty, Grace enjoys gardening, walking, jogging and watching sports, "especially during football season." Grace looks forward to going to work every day — inspired by a photo of her mother in Poland, now in her 90s. "Because Harrington is a small community hospital, the atmosphere is friendly and we all have good working relationships," she said. "When I leave my house, I feel like I'm going to my second home."
To read more stories like Grace's, visit everyoneeveryday.org.