Lucyna Chzaszcz, Patient Care Associate, 7 East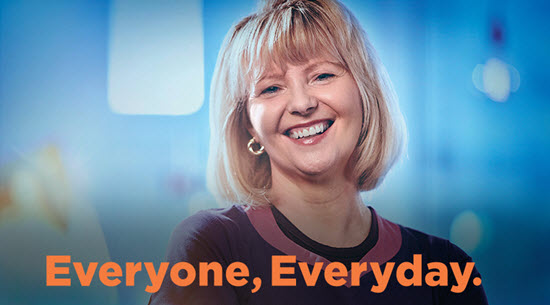 Her colleagues call her "Sunshine" for her energy, upbeat attitude and enthusiasm for her job. 
Lucyna "Lucy" Chzaszcz is a patient care associate (PCA) at UMass Memorial Medical Center on 7 East — the acute care floor that cares for adult surgical patients, including transplant patients, as well as those admitted for substance use disorders, dementia and other conditions. Lucy cares for them all with the same compassion and kindness she's known for — helping them with daily living activities such as personal hygiene, ambulating and meals — care delivered with a friendly smile and plenty of positive energy. 
"Every time I go to work, I say to myself, 'I'm going to do the best possible job that I can do,'" Lucy said. "And that's my model and that's what I go by. This is my dream job."
It's a caregiver's job she's performed with dedication and positivity for the last 30 years. "Prior to working here, I always heard that UMass Memorial Medical Center was the best hospital around," Lucy recalled. "I heard 'UMass is so wonderful. UMass has the best doctors. UMass treats you so well.' So I went to Human Resources and said, 'How do I get a job here?'" Lucy's persistence paid off, and decades later, she still loves coming to work every day. 
Lucy reinforces our Standards of Respect by being a team player and setting a great example. Despite working on one of the Medical Center's busiest floors, she never says, "It's not my job." Instead, she always jumps in to help her teammates provide the best possible patient care. "If you need something, I will stop what I am doing and help you," Lucy explained. 
No matter what a patient is admitted for, Lucy is there to make their day and their stay better. She works the second shift, so she's there to help patients get ready for bedtime. "When the sun goes down, some patients get anxious or scared, so I just sit with them, hold their hand and listen," Lucy said. "I will do anything for them, whether it's getting them some tea, making them some toast or taking them for a walk. Mostly I just listen, let them vent and give them my empathy. Everyone has a story." 
Recently, a former UMass Memorial Health transplant patient was readmitted to the hospital. She remembered Lucy caring for her many years ago. 
"I asked her how she remembered me," Lucy said. "And she told me, 'You are always kind, you are very helpful. You kept my spirits up. You laugh, you joke and make me feel content, even in the time of my life when I was struggling to live. And I appreciate it.' That meant so much to me," Lucy said. "The patients give me strength, too, because when they need me and when I help them and they thank me, that gives me lots of energy." 
To read more stories like Lucy's, visit everyoneeveryday.org.