Pamela Sheeran, RN, Nursing Professional Practice Specialist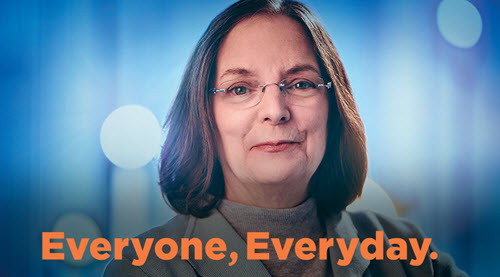 In 2022, Pamela Sheeran, RN, celebrates 45 years in nursing – a career devoted to caring for her patients and supporting her colleagues at UMass Memorial Medical Center, Memorial Campus. She originally wanted to be a school teacher. But then fate, as it sometimes does, intervened. She remembers what happened as though it were yesterday.
"My grandfather was rushed to Memorial with a heart attack," Pamela recalled. "As I was sitting on a bench at the hospital waiting with my grandmother, she clutched her chest and said, 'Oh my God, oh my God, my chest hurts!' And she fell on the floor." The nursing staff rushed to her grandmother's aid, while Pam looked on in awe. Fortunately, both grandparents survived and recovered in the same room together. "At that moment, I decided to become a nurse," Pam said. "I was going to this school, at this hospital that saved my grandparents. I graduated from the Memorial Hospital School of Nursing in 1977 and have been here ever since." And she has served as the same nursing school's president since 2000.
Pam has served in many roles and departments over the years, including as an acute care nurse and in the ICU, as well as in labor and delivery, childbirth and family education, and urology. Now she works in Nursing Professional Development, helping to prepare the next generation of nurses and patient care associates (PCAs) – doing curriculum development, classroom training for new hires/RNs and preceptor training. She is also on the faculty of the New Graduate Nurse Residency Program. "It's a privilege to train our future nurses," Pam said.
No matter how busy she gets, Pam makes time to support her colleagues however she can. At the height of the pandemic, Pam participated in onboarding nurses for the UMass Memorial DCU Field Hospital and administered COVID-19 vaccinations to her fellow caregivers.
"Many caregivers were scared before we had a vaccine to protect us," she recalled. "It felt like such a good contribution to humanity. I will never forget it," Pam said. "People gave me Dunkin' Donuts gift cards and lots of fist bumps, saying things like, 'You made history today with a very frightened shot recipient.' It was amazing to help give people that sense of relief. It was life-changing for me. I even gave [UMass Memorial Medical Center President] Michael Gustafson, MD, his first shot!" By protecting the health of our caregivers, she protected the health of countless patients, too.
When not at work, Pam enjoys kayaking, gardening and spending time with her five dogs – a mixed-breed pack of mostly rescued pooches.
Pam has no plans to retire soon from the caregiving job she has loved for more than four decades. "The relentless pursuit of healing defines my entire career," she said. "We take every day in stride; we don't do it alone. The ability to impact people's lives is so powerful." And she's an educator now too, as she originally intended, preparing the nurses of tomorrow. "I love being a nurse," Pam said. "It's who I am. It's my passion and my identity. I'm making a contribution to my little corner of the universe here in Worcester, Mass. It's the best career choice I ever made."
To read more stories like Pamela's, visit everyoneeveryday.org.