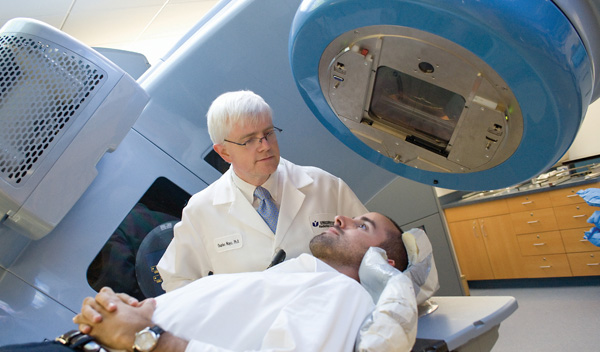 As one of the largest radiation oncology centers in the eastern United States, UMass Memorial provides advanced radiation therapy options for nearly 2,000 patients each year. 
What You Need to Know About Radiation Oncology

Our TrueBeam linear accelerator delivers radiation therapy treatment in only a few minutes.
Unlike older technologies such as the Gamma Knife and the CyberKnife, the TrueBeam unit uses four-dimensional technology for exceptional speed, power and treatment precision. 
Our physicians are national leaders in the field of radiation oncology. 
We are nationally accredited in radiation oncology by the American College of Radiology (ACR). The ACR awards accreditation to facilities for meeting high practice standards.
We are the first in New England to offer Trilogy RapidArc, a cutting-edge treatment that is more accurate and reduces treatment times.
Radiation oncology (or radiation therapy) is a standard treatment for many cancers. The process uses high-energy X-rays or radiation implants to attack abdomen, bone, brain, breast, head and neck, prostate, spine, uterine, certain soft tissues and other cancer cells.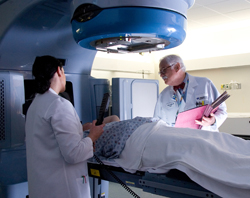 You can receive the following services:
Stereotactic surgery, a precise method for treating tumors
Total body irradiation
Prostate seed implants
Intensity modulated radiation therapy (IMRT), a 3D therapy that uses computer-generated for more precise delivery of radiation to the tumor
Radiation therapy is offered throughout Central Massachusetts:
UMass Memorial Medical Center – Worcester
UMass Memorial - HealthAlliance Hospital – Fitchburg
UMass Memorial - Marlborough Hospital – Marlborough
Harrington Memorial Hospital - Southbridge
Appointments
A call or click away:
HOPE line – 866-597 HOPE (4673)
Talk to a patient care coordinator with cancer experience.
Available Mondays through Fridays, 8 am – 4:30 pm.
Calls received during non-business hours will be returned on the next business day.