Cornelius Tyrrell, MD, Pediatrician, UMass Memorial Medical Center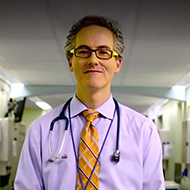 Sometimes listening is the best medicine.
When parents bring a sick or injured child to the UMass Memorial Children's Medical Center, they're not just dealing with their child's feelings—they're also coping with their own concerns and fears.
That's where pediatricians like Dr. Cornelius "Neal" Tyrrell come in.
"We see families at their most vulnerable," said Dr. Tyrrell, who treats children admitted to UMass Memorial Medical Center's University Campus. "It can be very difficult for parents, especially if their child is sick or in distress. A lot of emotions come up. They're scared. They're frustrated. Sometimes, they just want someone to sit down with them and listen."
Listening is an important part of Dr. Tyrrell's work as a caregiver. He listens to families. He listens to nurses and his other colleagues and staff. He listens to his own heart and "leaves no stone unturned" in caring for his pediatric patients. It's an attribute he's instilling in the next generation of caregivers as an assistant professor at UMass Chan Medical School training residents and medical students.
A Midwest native, Dr. Tyrrell joined the UMass Memorial family more than a decade ago as a resident himself. He has since planted roots in Central Massachusetts and is part of the culture of caring at UMass Memorial Health. "Whether you're a doctor or nurse or the staff person delivering food to a patient's hospital room—we are all caregivers," he said.  
When he's responding to pediatric emergencies or simply listening to a distressed parent, Dr. Tyrrell wants families to know he is "100 percent" dedicated to caring for their children and making everyone feel comfortable.
"Parents just want to feel heard," he said. "When I go home at night, I want them to know: 'I am thinking about your child. I will take care of your child with the same vigor that I would care for my own family members.' We see families as our partners in medicine. It is life giving. It is why I got into pediatric medicine in the first place."
Meet our other caregivers at everyoneeveryday.org.