Dave Bilotta, UMass Memorial Health – HealthAlliance-Clinton Hospital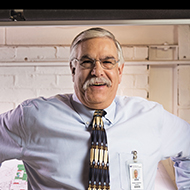 Not all caregivers are on the front line like doctors, nurses, therapists or medical assistants. As director of facilities at UMass Memorial Health – HealthAlliance-Clinton Hospital, Dave is a "behind the scenes kind of guy." Patients may not see his face every day, but his daily work ensures them a comfortable and safe visit.
Dave spends much of his time rounding clinical floors at HealthAlliance Hospital's Burbank and Leominster campuses. There he meets with staff and addresses any issues they may have. He handles ongoing construction projects, improves patient flow, optimizes space, tracks and fulfills the requirements of The Joint Commission, the hospital's accrediting body, and ensures facility efficiency.
It's Dave's responsibility to make sure the hospital is a safe place for employees to give care and for patients to receive care. "My initiative, I would say, is to be able to create a sacred space for each patient to be able to recover and heal in the most positive atmosphere possible," he said. "The most meaningful part of my job is helping staff and patients by meeting their needs as best I can."
"Dave has an exceptional understanding of the power of teamwork and he uses his creativity to solve problems and design innovative solutions that directly impact the satisfaction our patients have with their care and our employees have with their work environment," said Human Resource's Julie DeBono. "Dave acts with personal integrity and accountability every day."
Meet our other caregivers at everyoneeveryday.org.