Matt Lagueux: Director of Food and Nutrition, Clinton Hospital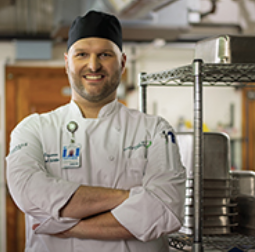 Matt Lagueux thinks hospital food should not only be nutritious, it should taste delicious. "My mom is an amazing cook who made sure everything tasted great," said Matt, who grew up in Clinton. He has served as a lead chef at hotels and country clubs. But he enjoys working in the hospital environment best as it gives him the opportunity to make everyone's day better. "When a patient or customer says, 'Thanks for making this for me,' that makes my day," Matt said.
Matt worked for UMass Memorial Medical Center – Memorial Campus for 12 years as a patient service supervisor before moving to UMass Memorial – Clinton Hospital. Patients are typically on restricted diets, so Matt and his staff work hard to find recipes that are healthy and taste good, without a lot of fat, salt and sugar. "Our menu planning means we can cover patient diets and deliver flavor to people not on diets," Matt said. "We are focused on delivering wellness, but food should still taste good."
On a typical day, Matt is busy doing a bit of everything needed to keep the kitchen humming. This can range from conducting inventory and setting up catered events for the hospital, to meeting with clinical nutritionists, to training kitchen staff. He pitches in with food preparation and rolls up his sleeves washing dishes. He also travels to other hospitals to learn new ways to deliver delicious, high-quality food that is priced at a value for staff and visitors.
"I could not do any of this without the great team we have here," Matt said. "We have an amazing kitchen staff that are all trained in the proper way to prepare and handle food, and to interact with patients and guests. If the staff has a challenge, we give them the tools and the resources they need to get around them." Matt said his team gets to know doctors, nurses and other caregivers by name, and some bring the touch of home cooking to the table. "It's not just me," Matt said. "We all make Clinton Hospital feel like home."
Meet our other caregivers at everyoneeveryday.org.
Follow Us on Social
Read The CEO's Blog