Prince Philip, MD, Internal Medicine/Hospital Medicine, UMass Memorial Health – Marlborough Hospital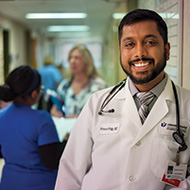 Patients can experience anxiety, confusion, even fear when admitted to the hospital. But as soon as they meet Prince Philip, MD — they know everything will be OK. Dr. Philip is an internist and a hospitalist at UMass Memorial Health – Marlborough Hospital. He's the doctor who makes the rounds and takes care of medical patients during their hospital stay. His bright smile and easy-going manner immediately put people at ease. 
"I see medical patients with a range of disease processes, from COPD to pneumonia, infections, heart attacks, heart failure and various gastrointestinal diseases," Dr. Philip said. "If you come into Marlborough Hospital to see a general physician and not a surgeon, I will take care of you."
Good communication is key to gaining patients' trust and addressing their concerns. "The first thing I like to do is sit down on the patient's bed or in a chair and establish that personal connection," he said. "I like to help patients know what's going on by breaking things down in words they can understand and drawing pictures. By teaching them about their disease, patients can take a more active role in their own medical care. I think probably my best attribute as a physician is being able to communicate well." 
For example, Dr. Philip recently treated a patient admitted for a COPD flare-up. While chatting with her, he realized she was using her inhalers incorrectly. By clarifying how to use her daily control inhaler vs. her rescue inhaler, Dr. Philip helped his patient become a more informed partner in her own health care. "The patient had a light go off regarding her COPD, and it felt like her own management of the disease would be much better moving forward," he said. 
Dr. Philip came to UMass Memorial Health as a resident, became chief resident, then assumed the role of hospitalist in July 2015. He's also an assistant professor at UMass Chan Medical School. "Dr. Philip has really taken the initiative to work collaboratively across the hospital," said Ellen Carlucci, vice president of Development, Marketing and Communications. "He is upbeat and always has a smile on his face. As a physician, he's a real team player who is caring, compassionate, and takes a leadership role."
A native of India who grew up in New York City and Texas, Dr. Philip now calls Central Massachusetts home. He believes in community involvement, so he brought out his family and volunteered at the annual Safe Summer Fun Day health and safety fair for kids. He is also committed to supporting his community of fellow caregivers. "The people here are awesome," he said. "We all work as a team — whether its physicians or the nursing staff, or the people who work in the cafeteria. It's a community atmosphere." 
Meet our other caregivers at everyoneeveryday.org.