Scott Szretter, Assistant Director, Information Technology, UMass Memorial Health – Community Healthlink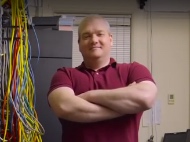 When you hear Scott Szretter's job description, the word "caregiver" might not be the first word that comes to mind—but you'd be surprised.
Scott is the assistant director of information technology for UMass Memorial Health – Community Healthlink, and as a result, most of his job is rooted in maintaining the systems that keep information flowing. A crucial aspect of directing a large network is that, on a certain level, his job is never quite complete—the system could always be more effective; the user's experience always improved.
Scott works on perfecting systems and applications that ensure patients have a smooth, streamlined experience on their way to receiving care, and he also developed an Emergency Services Database, which tracks patients from evaluation all the way through to their discharge date. It's stressful enough when a patient or a loved one has to navigate the world of medical care, and Scott and the team work hard to ensure the experience is as comfortable—and efficient—as possible.  
 "My wife is a nurse, so I suppose that is what helped point me in the direction of health care," said Scott. "There is definitely a feeling of satisfaction when you complete a project or fix an issue that ultimately helps our patients and clients." When asked what words his coworkers would use to describe him, Scott responded: "Well, hopefully 'responsive,' 'friendly,' 'efficient' and 'thorough.'"
When it comes to interacting with his team members, Scott always ensures that he has an open line of communication, sharing knowledge and best practices on issues ranging from the simple to the complex. Scott finds the most meaning in his job when he is able to solve a significant problem for end users; there's a lot of satisfaction in knowing that you've helped to improve someone's ability to care for a patient.
You can find Scott in his office, in the server room, or assisting an end user at their work station, and always with a smile. Even though Scott may not spend his days interacting directly with patients, he contributes to their care through steady, trustworthy dedication.  
Meet our other caregivers at everyoneeveryday.org.