Robert Fischer, Lead Pharmacist, UMass Memorial Health – Marlborough Hospital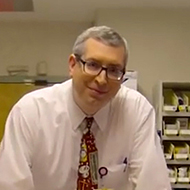 Since 1991, Robert Fischer and his team have worked hard to ensure every patient prescription ordered at UMass Memorial Health – Marlborough Hospital is accurate and appropriate. As lead pharmacist, Bob oversees the pharmacy's operations and supervises a team of pharmacists and technicians. His job demands careful attention to detail on every order, every day, for every patient.
"We check for correct timing and dosing, possible drug interactions and allergy information," Bob said. "We make sure prescriptions are labeled correctly and distributed in a timely manner. We interact with nurses and physicians if there are any questions, and to follow up. We work together as a team, and we all remember that the patients' needs are our top priority."
Bob may not have direct interaction with patients, but he's still an outstanding caregiver. "Knowing that you are helping patients to feel better or get well is the reason I went into hospital pharmacy as opposed to a retail setting," Bob said. "In retail, you send patients on their way, and there's no follow-up. They don't come back in and say 'Hey, I got better!' In the hospital, we can follow patients' progression and see in their lab reports that, for example, somebody's infection is going away or their blood pressure is getting lower with the medications we gave them. We like to see people getting better."
A Worcester-area native, Bob graduated from the UConn School of Pharmacy and chose to work at Marlborough Hospital to remain close to his family. He considers his fellow caregivers here to be his second family. "Everybody knows your name and says 'Hi!' when walking in hallways," Bob said. "It's a very friendly place, from senior management through all the staff. You don't feel like a face in the crowd."
Bob often recommends Marlborough Hospital to his friends and family. "If someone needs a procedure, I like to say, 'Hey, come to the hospital I work at. We will give you really good care.'" And Bob and his colleagues will be behind the scenes, putting a good dose of caregiving into every prescription filled.
Meet our other caregivers at everyoneeveryday.org.