Scott Westgate, Food Service Supervisor, UMass Memorial Health – Marlborough Hospital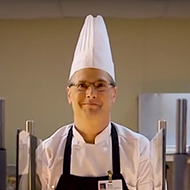 A lot of care goes into everything prepared in Scott Westgate's kitchen. Scott first came to UMass Memorial Health – Marlborough Hospital by accident ... literally. "I was hit by a car on my bicycle and the driver took off," Scott recalled. "A lady from Merry Maids stopped and gave me a ride to the hospital. I spent five days here. Once I recovered, I wanted to come back and work here. I thought I could bring something special to the table." It was 1984. Scott left his job as a nursing home cook and has been cooking with care for Marlborough patients, visitors and staff ever since. "It was a weird twist of fate, and I stayed," he said. "The rest is history."
Scott takes great pride in preparing a range of food options that will make everyone's day a little better. "Food is very personal," Scott said. "We try to make our cafeteria a very pleasant experience. We have comfort foods, we have healthy options. We offer staples, but we also make cutting-edge recipes. I will do whatever it takes to make the whole community here happy." 
As a supervisor, Scott has a hand in the food that's prepared for patients and served in the cafeteria and at administrative and community events. Everyone knows Scott. His wife also works here as a patient observer, assisting the nursing staff. "It's really a special place," Scott said.     
Scott likes to get up onto the hospital floors to talk with patients and their families, "to make sure they get what they need so they can recover and go home." He also enjoys interacting with his fellow caregivers. "We're fortunate in that we see everyone here in the cafeteria, from physicians to all the staff," he said. "They can come here and let their guard down and share their thoughts. It's a really fun, friendly atmosphere. We try to make it entertaining and cook things in sauté pans right in front of you."
Scott enjoys mentoring the other cooks and teaching them how to put care in whatever they do. "I've had the privilege of working in restaurants and hotels, but I've stayed here because of the camaraderie," Scott said. "We're all here for the common cause of making sure our patients and visitors are happy."  
Meet our other caregivers at everyoneeveryday.org.