Stacey Anderson, RN, BSN, Case Management/Utilization Review Coordinator, UMass Memorial Health – Marlborough Hospital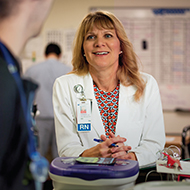 Stacey Anderson, RN, knew right out of high school that she wanted to become a nurse. "I loved the hustle and bustle of hospitals and being in the medical environment," she said. Stacey served at Milford Regional Medical Center and Beth Israel Deaconess Medical Center before joining UMass Memorial Health – Marlborough Hospital about two years ago. While she still enjoys direct contact with patients, Stacey does most of her work as a behind-the-scenes caregiver. Patients might not meet Stacey, but she's an important part of helping their hospital stay, discharge planning, and health insurance billing go smoothly.
In some hospitals, case management is handled by social workers and registered nurses. However, at Marlborough Hospital, case managers handle the social work aspect as well. Stacey works with these nurse case managers, doctors, and other clinicians on patients' length of stay and services needed—making sure everything falls within their insurance benefits. Stacey goes on patient care rounds with nurse case managers throughout the hospital. She also lends a hand in the Emergency Department, helping doctors understand which patients need observation vs. inpatient level of care. "It's a great hospital with a nice community feel," she said. "Everyone knows each other, and we all work great together."
Stacey helps patients understand their insurance benefits and writes insurance appeals for the hospital (e.g., to contest insurance company denial of hospital claims for patient coverage). "I try to get patients the care they need within their benefits," she said. "I also find resources for patients after they're discharged." For example, some patients may require at-home care, care in another facility, services provided by an outside agency, or hospice care. Stacey is there to take care of all those patient needs, every day.
"It takes organizational skills," she said. "You have to be able to juggle several things. I might have five case managers calling me, a few doctors calling me, outside insurance companies calling me, and hospital registration calling me. I'm a resource for a lot of people." Stacey enjoys helping patients and their families through times of sickness and stress. "My hope is when we send patients home, they're able to heal and get better."    
Meet our other caregivers at everyoneeveryday.org.