Tapethia (Tab) Bergman, Rehabilitation Aide, Physical Rehabilitation Services, UMass Memorial Health – Marlborough Hospital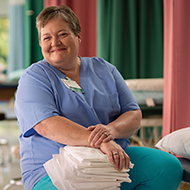 Patients coming to UMass Memorial Health – Marlborough Hospital's Physical Rehabilitation Services are likely to meet caregiver Tapethia "Tab" Bergman. As a rehabilitation aide, Tab works under the supervision of a physical therapist or occupational therapist, helping with patients as needed. Tab also pitches in wherever help is needed. "I might be behind the reception desk or answering phones, making sure the patient's insurance coverage is squared away, or working on a billing issue," she said. But her favorite part of the job is interacting with older patients who come to the outpatient clinic at 340 Maple Street, Marlborough to regain their mobility.
"We get a fair number of senior citizens here recovering from hip replacements and injuries," Tab said. "The service we provide is aimed at improving their mobility." Tab grew up in Vermont, where her grandmother lived with the family and helped raise the children. "Family is very important to us," she said. "So this is my way of giving back." Tab moved to Massachusetts and worked for several years as a certified nursing assistant (CNA) in the Alzheimer's unit of a long-term care facility. She joined Marlborough Hospital in 2007 as a full-time CNA on Granger 2, also filling in as a certified patient observer in the psychiatric unit. In 2010, Tab transferred to rehabilitation services on Maple Street, where she's found her niche as a caregiver.
 "I pride myself on keeping a positive attitude," Tab said, stressing the importance of teamwork among caregivers at the busy clinic. Tab lives in the area, and she enjoys running into patients out and about town, seeing them get back to their normal activities. "When a patient tells me I made his/her time with us a good experience, that's where my job satisfaction comes in," she said. "Many will come back to us or refer us to their friends and family, word of mouth." If patients do return, they will encounter a familiar and friendly face in Tab. "Patients come back and say I missed you!" Tab said. "I'm happy to be able to help them get better."
Meet our other caregivers at everyoneeveryday.org.