Deidre Chaves, RN, Pediatric Nurse, UMass Memorial Children's Medical Center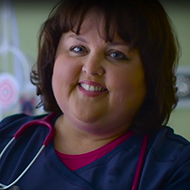 Since 1990, Deidre Chaves, RN, has worked the night shift at the UMass Memorial Children's Medical Center. After getting her nurse-to-nurse report, the first thing she does when she comes on duty is sit down with each young patient and their families to talk about how their day went. "It's the end of the day, when all the tests are done," Deidre said. "It means a lot to them to know their nurses really care." And that Deidre will be with them, all through the night.
Deidre's floor cares for patients from infants through age 21, who are in the hospital for a variety of reasons, including post-surgical care, for medical illnesses, and for chronic illnesses, such as cystic fibrosis. She also cares for pediatric oncology, hematology, neurology, urology and orthopedic patients.
Every shift is different. What remains constant is the commitment to caregiving that Deidre and her fellow pediatric nurses bring to their work, every day. "I learned from the best nurses here," she said. "Every day, we give a little piece of ourselves to make sure these children get the best possible care."
Sometimes that means going above and beyond the job description, such as the time Deidre brought a chronically ill little girl a doll from Disney World. "To see her face light up was magical," she said. Little things make a big difference to pediatric patients. "Sometimes we'll bring decorations into the room for holidays and to encourage getting out of bed by asking the child if they want to see the fish tank with Nemo," Deidre said. "We try to provide some of the comforts of home and be strong advocates for our pedi patients."
Deidre is a part of a new program created by the Children's Action Committee, where she follows up discharges with a phone call to make sure medicines are being taken, follow-up appointments are made, and everything is going well. "These patients are on a journey and I'm on it with them, from admission to discharge," she said. "If I know I've made a difference to help that child and family feel comfortable and cared for — then I've done my job."  
Meet our other caregivers at everyoneeveryday.org.