Gina Mischitelli, Phlebotomist, UMass Memorial Medical Center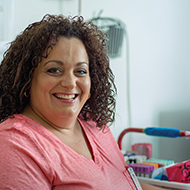 Gina Mischitelli must hear "I hate needles" at least 20 times a day. But that's OK. As a UMass Memorial Medical Center phlebotomist, Gina strives to make each patient's blood draw quick and painless. She brings her positive energy and easygoing manner to every patient she sees, helping to put them at ease. "I just talk to them about anything besides what I'm doing," Gina said. "Most patients don't want to look at the needle. They just want it over and done with quickly. I promise them that. And they leave with a big smile."
Gina works in the Benedict Building at the Medical Center's University Campus. She and a team of phlebotomists may perform upwards of 300 blood draws a day, with patients ranging in age from infants through the elderly. She says transplant patients can be more challenging, as their veins become difficult to find after so many blood draws.
"Our fingers have to be extremely sensitive to find the vein," Gina said. "Sometimes one of us is better at finding a vein than another, depending on the patient. So we help each other out to make sure we get 'a good stick.' We're all in this together."
Unlike many caregivers who knew early on that they wanted careers in health care, Gina came upon this work by chance. She'd been delivering newspapers—driving through the streets of Shrewsbury in the wee hours of the morning—for more than 12 years. Then, she heard about a free training program in phlebotomy offered by UMass Memorial Medical Center via the Worcester East Side Community Development Corporation. Gina interviewed for the program and was accepted. She's been a phlebotomist at the hospital since 2008.
The most satisfying part of her job, Gina says, is seeing patients with serious medical issues get better. "We are part of patients' healing process," Gina said. "When you see someone recovering from a kidney, liver, or heart transplant—to see them alive and living their lives—that makes it all worthwhile. Good health is everything."
Meet our other caregivers at everyoneeveryday.org.