Jason Wilder, Supervisor, Customer Service, Research and Collections, Patient Financial Services, UMass Memorial Medical Center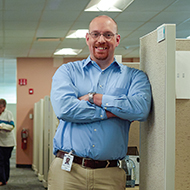 Health insurance co-payments, deductibles, and claims can become a source of confusion and frustration for patients. Jason Wilder and the Patient Financial Services team are here to help patients sort through their health insurance coverage and medical bills. "When a bill arrives in the mail, all they have in front of them is that piece of paper," Jason said. "Patients can become understandably frustrated if they're not sure why they owe money out-of-pocket. We walk them through their insurance benefits and help them resolve any issues."
When a patient asks for their call to be escalated to a supervisor, Jason picks up the phone. "Sometimes patients just want a second opinion that what their representative told them was accurate," Jason said. His department receives a large volume of calls from patients throughout the UMass Memorial Health system. They also meet with patients in person at their 306 Belmont Street, Worcester office.
"It takes patience and understanding," said Jason, who is a calming voice for patients who may be angry or upset. "We're all human," he said. "I take the time to explain things to patients. We have a real conversation. I want them to feel that their issue has been 100-percent resolved." His team contacts insurance companies to sort out claims and also works with patients on payment options.
For Jason, being a caregiver means helping his colleagues learn to be patient and understanding, too. The work can be stressful, but the team is focused on patient satisfaction. "We have an excellent team here," Jason said. "We encourage each other to bring things up and share ideas. The key is not taking calls personally, as patients aren't mad at us—they're just frustrated."
Jason says his colleagues support him "by coming to work every day. We all go the extra mile to help the patients." On the patient side, the greatest reward is a simple thank you. "When a patient says, 'Thanks, you've been a big help,' that gives me a lot of satisfaction," Jason said. "I look forward to coming to work every day to help our patients."
Meet our other caregivers at everyoneeveryday.org.