Josephine (Josie) Roman, Program Coordinator, Supported Living Environment, UMass Memorial Health – Community Healthlink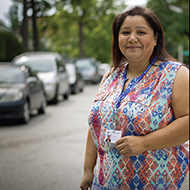 Josie Roman starts her day by meeting with her team, discussing case management and other issues, then squaring away any administrative tasks that need to get done. Then, she hits the road. "I'm more of a hands-on person," Josie said. "Once my paperwork is done, I'm out in the community."
Josie is a program coordinator for UMass Memorial Health – Community Healthlink's Supported Living Environment (SLE). SLE serves adults with a history of homelessness and/or substance abuse who have been diagnosed with persistent mental illness. These individuals receive support to live in rental units throughout the city of Worcester.
Josie enjoys visiting clients in their homes to make sure there are no gaps in the services they need to live independently. Most clients have a dual diagnosis of behavioral health and substance use disorders. "What we do takes a lot of patience, and you have to be a good listener," Josie said. "We have to respect our clients and serve them where they are, not where we think they should be. Everyone has different needs, but the goal is recovery."
People living with mental illness and substance use disorders are often stigmatized by society, but Josie sees these individuals for who they really are. "We build relationships with our clients so we see where they are coming from," she said. Josie and her team of caregivers often serve as an extended family for people in their care. She recalls one client who did so well she went on to study nursing. Another wanted to give back to the community by becoming a social worker. Josie says with hope and support, recovery is possible.
Josie makes sure her team has what they need to keep a positive outlook and support each other. "This is a very stressful field, but my staff members enjoy coming to work," she said. A monthly dinner outside of work and team-building exercises help build camaraderie. "If someone is having a hard day, we all chip in to help," she said. "I love my staff and the folks we serve. To see just one person change makes it all worthwhile."
Meet our other caregivers at everyoneeveryday.org.