Lisa Gillum, MSN, RN, Associate Chief Nursing Officer, UMass Memorial Medical Center – Memorial Campus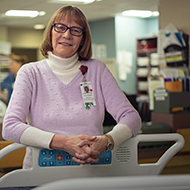 In sixth grade, Lisa Gillum volunteered as a hospital candy striper in Wareham. It was there that she learned the importance of talking with and listening to patients. That early experience has been one of the driving forces in her career as a registered nurse, and now Associate Chief Nursing Officer at UMass Memorial Medical Center – Memorial Campus.
Lisa is constantly looking for ways to improve the patient experience by supporting staff with tools and processes that can help them provide better care. "The challenges are not always the big things," Lisa said. "The difficult piece is eliminating the small things that create waste and inefficiency." For example, Lisa worked with an interdisciplinary team that drove the effort to improve the quality and availability of hospital beds for our patients. "Instead of having to wait for a rental, we now have a bed that has the right surface for the right patient at the right time. Every bed also has a scale and fall prevention technology that will help us keep our patients safe. These beds are in every inpatient unit. This is one example of how important it is to make sure our staff has the tools they need, and from a patient experience/comfort perspective, the mattresses are a dramatic improvement as well. This was a big investment to improve outcomes."
Lisa has served at UMass Memorial Medical Center in a number of caregiver roles, including staff nurse, nurse manager, and night-shift supervisor. She also worked in the Neonatal Intensive Care Unit (NICU) for eight years. While serving as in-patient director at Memorial Campus, Lisa was the clinical lead that implemented standardized barcode medication administration (BCMA) for the inpatient areas. She then transitioned to Clinical Informatics, which serves as a bridge between information technology (IT) and clinicians. "I'm very proud of the fact that we worked together to improve communication between the clinical side and the IT side," Lisa said.
She is also working with the UMass Memorial Health Center for Innovation and Transformational Change (CITC) on scorecards "so staff can better understand how the value of what they do every day contributes to better patient outcomes and meeting departmental goals." Lisa enjoys working with multidisciplinary teams to facilitate process changes that drive day-to-day improvements on the clinical floors. "Memorial is a wonderful campus," she said. "We have great teams and teamwork here. The people here are aligned and dedicated to making this the best place to get care and the best place to give care."
Meet our other caregivers at everyoneeveryday.org.