Nick Brown, Patient Service Assistant, Emergency Department, UMass Memorial Medical Center – University Campus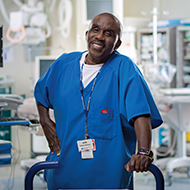 Nick Brown knows no one enjoys coming to the Emergency Department (ED). That's why he greets every patient with a smile and tries to make their stay a little better. "It doesn't matter what I might have going on, I always put the patient first," said Nick, who works as a patient transporter in the busy ED at UMass Memorial Medical Center – University Campus.
The University Campus ED is a Level I Trauma Center providing 24-hour care for critically injured patients, along with the myriad of other patients seeking care in the ED. It's Nick's job to transport patients via wheelchair or moveable beds to testing areas for X-rays, ultrasounds, and CT scans. He also brings patients admitted to the hospital up to their rooms, making sure their belongings are secure before they roll.
Nick goes the extra mile to make sure patients are comfortable. "If I'm getting a patient ready to move and they tell me they're not ready because of pain or discomfort, I find a nurse to help them get treated before I take them," Nick said. "Each patient is different, and I focus on helping them as individuals."
Nick is originally from Ghana, West Africa. His friendly, gentle manner makes him well suited for work as a caregiver in the ED, where no two days are exactly alike. Nick worked as a mental health associate for 10 years at Westborough State Hospital before joining UMass Memorial Medical Center in 2006. That experience helped him develop the calm and empathy needed to work with patients under stress. "I try to make them feel at ease," Nick said.
Nick enjoys providing support to the doctors and nurses in the department. "We work very well together," Nick said. "I support them and that help patients feel better." For Nick, the challenge of helping patients at their most vulnerable is what drives him into work each morning at 7 am. "What I like most is helping the patients," Nick said. "That's what makes me happy."
Meet our other caregivers at everyoneeveryday.org.