Parthenia Opoku-Duku, MSW, Clinical Social Worker, UMass Memorial Medical Center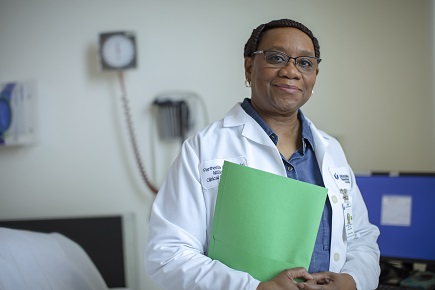 I work with patients of all ages on the medical units at the University and Memorial campuses. This is not their last stop. So I need to evaluate them to find them the best services after they are medically evaluated and discharged. To do that, I need to talk with them and learn about their situation and desires, to understand them as people. Sometimes, I also need to understand their family dynamics.
Listening is vital for a social worker to make a connection. It helps me get at the essence of a patient's situation. I look them in the eye and watch their body language. I listen to not only what they're saying, but how they're saying it. Listening helps me meet patients where they are, without judgment. It helps them feel better, and lets them know they are understood as people, not just patients; they are more than a diagnosis or medical record number. You have to show people respect, and listening is a big part of that.
If you could have one superpower, what would it be? What I liked about the Black Panther movie was the theme of community. If I could give back to the community by fixing everyone's problems, that would be my superpower.
Meet our other caregivers at everyoneeveryday.org.