Stacy Potts, MD, Med, Family Medicine Physician, Residency Program Director, UMass Memorial Medical Group's Barre Family Health Center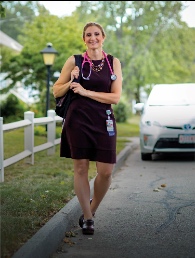 In all the right ways, Dr. Stacy Potts practices medicine like the old-fashioned family doctors of days gone by. For nearly two decades, she's served as a family medicine physician at the Barre Family Health Center, part of UMass Memorial Medical Group. She treats patients young and old, at all stages of life—often treating entire families. "I'm focused on patient relationships," Dr. Potts said.
Dr. Potts provides care for pregnant women and delivers their babies. She treats children and adults for a range of ailments, injuries, and conditions. And she works with hospices when palliative care is needed. Trust is at the core of her patient relationships. "I get to know individuals and their families," she said. "I live in the community where I work, and I see my patients out and about in the world, in our different roles. I think that helps a lot." 
In the rural community of Barre, this personal approach to caregiving matters. Dr. Potts says family medicine need not be "limited by an organ system or gender or disease process. It's about the relationship with the individual, the family, and the community through all ages and all stages." Dr. Potts is willing to go the extra mile (literally) to meet patients where they are. She even makes house calls. "Whether they're in the hospital or at home or in our health center, it's all about the patient," she said.
Dr. Potts grew up in Vermont. Since sixth grade, she knew she wanted to become a physician, and her friends nicknamed her "Doc." She brings the best of both worlds to her work as a caregiver in Barre, combining the time-honored traditions of personalized family medicine with the state-of-the-art research, resources, and specialists available through the UMass Memorial Health system. 
She travels nationwide to speak about family medicine and directs UMass Chan Medical School's Worcester Family Medicine Residency Program—training the next generation of physicians. "I want our residents to understand the privilege and honor we have caring for people the way we do, being invited into their lives," Dr. Potts said. "Witnessing my learners find this joy in medicine is most gratifying."
Meet our other caregivers at everyoneeveryday.org.