Bringing Care to Neighborhoods
If you don't have access to transportation, getting to and from medical appointments can be a challenge. UMass Memorial Medical Center is improving your access to medical and dental care through our Ronald McDonald Care Mobile, which brings care to hundreds of students at 21 schools and underserved residents living in neighborhoods across the City of Worcester.
Mobile Health Services Increase Access to Care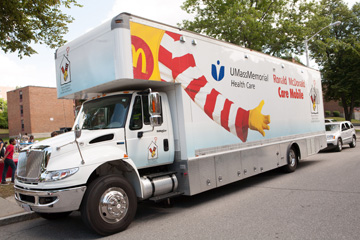 Through a partnership with Ronald McDonald House Charities, this handicap-accessible clinic is a welcoming entry point to the health care system for the medically underserved, for those with low literacy and limited English, or those who may be undocumented, homeless or recently arrived immigrants.
The Care Mobile's staff treats both children and adults in its medical and dental suite and provides a wide range of services, including physical exams, lab workups, immunizations, well-child visits and preventive dental care. Patients also receive assistance with insurance enrollment, referrals to other social support services and a solid connection to ongoing care.
Connecting with the Community
The Care Mobile not only provides access to health care where children need it most, but also connects patients with a medical and/or dental home. In addition, the Care Mobile conducts outreach to the medically underserved population through a variety of neighborhood events, ethnic festivals and community-based programs.
"Our staff, which includes two-credentialed Spanish/English interpreters plus access to telephone medical interpretation in multiple languages, is bridging cultural divides. We take the time to form relationships with patients that are as personal as they can possibly be," said Sara Connor, NP, Care Mobile manager. "We want patients to feel valued in their own language, in real time."
Learn more about Care Mobile services.
Follow Us on Social
Read The CEO's Blog